Newspaper Previews DePauw Theatre's Production of Spring's Awakening
February 2, 2004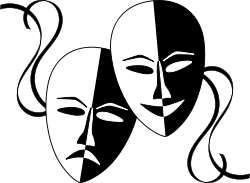 February 2, 2004, Greencastle, Ind. - "Tiffany Wilding is a prospective economics major. Kyle Hampton wants to study communications. But since January 7, the pair of DePauw University freshmen, along with 33 other cast and crew members, have found themselves center stage and living the theater life," writes Brian Kern in the Flyer of Hendricks County, Indiana. "The project is a class and part of DePauw's month-long winter term program designed for student enrichment. For these students, the ultimate goal is the successful production of Frank Wedekind's Spring's Awakening and the challenge is by no means an easy one."
The story points out that "Unlike most high school and collegiate productions that span over several months in a semester, Spring's Awakening
is being produced and directed in only a matter of weeks, a method known in the theater world as summer stock."
You can read the entire article by clicking here. Brian Kern is a DePauw sophomore and recently won an award from the Hoosier State Press Association. Read more here. DePauw Theatre's production of Spring's Awakening opens Thursday, February 5 and runs through Sunday, February 8. Learn more by clicking here.
Back