Newhouse News Service Story on Super Bowl Halftime Incident Quotes Prof. Jeff McCall '76
February 3, 2004

February 3, 2004, Greencastle, Ind. - A nationally-distributed Newhouse News Service story on the continuing fallout from Sunday's Super Bowl halftime show includes a comment from DePauw University professor of communication arts and sciences Jeff McCall. "In the media world, to get attention, you've got to shock," Dr. McCall is quoted as saying in the article, which appears in the Cleveland Plain Dealer and other newspapers.
"While there were apologies all around for the now-famous exposure of Janet Jackson's breast during the Super Bowl halftime show, parents and the Federal Communications Commission may not be so easily pacified," write Mark O'Keefe and Michele M. Melendez. "The uproar over the Super Bowl incident appears to be exceeding the outrage from those previous moments. The difference, say media and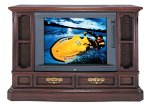 morality experts, is the venue."
You can access the complete story by clicking here.
Professor McCall, a 1976 graduate of DePauw, wrote a recent op-ed on the Federal Communications Commission and the increasing pressure it is facing to curb broadcast indecency. Read more by clicking here.
Source: Newhouse News Service
Back