19th Ranked Women's Basketball Team Defeats Rose-Hulman; Men Fall
February 3, 2004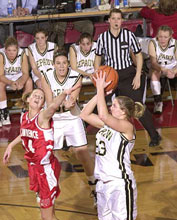 February 3, 2004, Greencastle, Ind. - "Sarah Zondor scored 17 points and Amy Argetsinger added 15 to lead the host Tigers (16-3, 7-1 SCAC) to a victory over the Engineers (8-11, 4-4)," the Indianapolis Star writes of last night's women's basketball game in which DePauw defeated Rose-Hulman, 66-64. DePauw is ranked 19th in the latest USA Today/ESPN/WBCA poll and 25th by D3hoops.com.
The Star also notes that in men's action, Southern Conference Athletic Conference-leading Rose-Hulman defeated DePauw 72-67. The loss drops the men's team to 12-7 overall and 5-3 in the SCAC.
Read the newspaper's college basketball roundup by clicking here. Visit the women's team's Web page here, and get the latest on the men's team here.
(top photo by Marilyn E. Culler)
Back