Wired Examination of Broadcast Indecency Quotes Prof. Jeff McCall '76
February 4, 2004
February 4, 2004, Greencastle, Ind. - Recent incidents of broadcast indecency, including the Super Bowl halftime show debacle and recent on-air profanity by singer Bono and basketball's Shaquille O'Neal "could bring a new era of activism to the Federal Communications Commission, which has found almost no time to monitor or punish broadcasters, even while under Republican control," writes Randy Dotinga in a story posted today at Wired News. It continues, "'If they don't start doing something, they'll have Congress all over them,' predicted Jeff McCall, professor of communications at DePauw University."
Later in the piece, Dotinga writes, "even when the FCC does get complaints about radio programming it rarely does anything about them. According to FCC Commissioner Michael Copps, the agency rejected 83 percent of more than 500 complaints received in 2002, while many of the others landed in limbo. 'The FCC piddled around for years on indecency, and basically ignored it as an issue,' McCall said. 'Now the FCC is getting busy because Congress is getting busy, and Congress is getting busy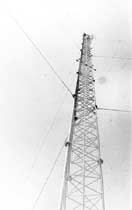 because their constituents have gotten on them. And it's not just from super-religious people. It's from everyday Americans getting concerned that the broadcast airwaves are becoming too dirty.'"
You can read the complete article online by clicking here.
Professor McCall, a 1976 graduate of DePauw, wrote a recent op-ed on the Federal Communications Commission and the increasing pressure it is facing to curb broadcast indecency. Read more by clicking here. He was also quoted yesterday in a nationally-distributed Newhouse News Service story on the Super Bowl halftime controversy; read more here.
Back