Class of 2008 is Taking Shape
February 5, 2004
February 5, 2004, Greencastle, Ind. - The February 1 deadline to apply for admission to DePauw University has come and gone, "but there's still lots of mail to open," says Madeleine Eagon, vice president for admission and financial aid. She and her staff are continuing to review applications from "a field of very impressive young people. Our applicant pool is strong again this year, and we're looking forward to welcoming the new students to DePauw this fall."
As of January 30, 2004, DePauw had received paid deposits from 108 admitted students, a 40% increase over the 77 deposits received by January 31, 2003. In fact, the current total is the second-highest in recent years. Only at this point in 2002 did the University have more students committed to attend in the fall (111), and it wound up with an incoming class of 699 that year, about 70 more than it was seeking. This year's goal is a new class of 625 students.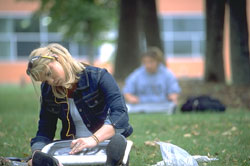 "I don't think history will repeat itself as far as over-enrollment is concerned," Eagon noted. "I foresee a class that is right at our target, and one that celebrates the ethnic, cultural and regional diversity that continues to increase the ethic, cultural and regional diversity that DePauw's community enjoys. It's always exciting to see a new class come together, and while we're very busy pouring over applications and making decisions about offers of admission, we're thrilled with the quality of the people who are choosing DePauw."
Eagon says DePauw's continued ranking as a top tier national liberal arts college by U.S. News & World Report (which also lists DePauw as a "Great School at Great Prices," read more here), the scholarships made possible by generous alumni gifts to the Annual Fund, and the University's new, state-of-the-art buildings for science, math and technology, art and physical fitness, plus the soon-to-open nature park (read more here), are among the factors that are leading more of the nation's top students to consider DePauw.
"The prospect of learning and living in such a great environment -- with an award-winning faculty, a one-to-ten faculty-student ratio, fabulous opportunities for internships and strong traditions -- makes DePauw an attractive option for students and parents seeking the best possible education. It's a great time to be talking with young people about DePauw, because they are truly excited about all that we have to offer," the vice president says.
Prospective students who would like more information on DePauw University, including access to an online application form, may click here.
Back