Washington Post: Lee Hamilton '52 "Would Be An Obvious Choice" for New Presidential Commission
February 6, 2004
February 6, 2004, Greencastle, Ind. - Lee Hamilton, the former U.S. congressman and a 1952 graduate of DePauw University, "would be an obvious choice for the new intelligence commission" that President Bush announced this week, writes Dana Milbank in the Washington Post. "After all, he served on the Hart-Rudman commission and was co-chairman of the Baker-Hamilton Commission on Los Alamos security. But, inconveniently, Hamilton is already tied up as vice chairman of the 9/11 commission and the President's Homeland Security Advisory Council."
The Post story, written Wednesday, examines potential candidates for the nine-member commission that President Bush announced he'll assemble to investigate intelligence failures in Iraq. You can read the article by clicking here.
Members of the panel were named today. You can read a New York Times summary of the announcement (as the Post speculated, the highly engaged Hamilton is not among the members) here.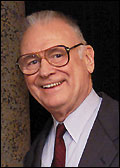 Lee Hamilton is vice chair of the National Commission on Terrorist Attacks Upon the United States, an independent, bipartisan commission, which was chartered by the President in 2002 to prepare a full and complete account of the circumstances surrounding the September 11, 2001 terrorist attacks, including preparedness for and the immediate response to the attacks. The Commission is also mandated to provide recommendations designed to guard against future attacks. This week, the White House granted a request from the commission that it be given more time to complete its work. Read about that in a CNN.com story by clicking here. Learn more about Lee Hamilton here.
Back