DePauw Community Mourns the Passing of First-Year Student Kellen Mogck
February 8, 2004
February 8, 2004, Greencastle, Ind. - Kellen Mogck, 18, a first-year student from Valparaiso, Indiana, who was critically injured in an auto accident Thursday evening, passed away this morning at Methodist Hospital in Indianapolis. Several dozen of Mogck's classmates and friends, many of whom worshipped with him in DePauw's JC Fellowship or were fellow residents of Bishop Roberts Hall, were at the hospital when he died.
JC will meet tonight at 8 p.m. in the ballroom of the Memorial Student Union Building to support Kellen's classmates and friends. Tomorrow at noon, University Chaplain Larry Burton will lead a memorial service in Kresge Auditorium of DePauw's Performing Arts Center.
Visitation for Kellen Mogck will be held Tuesday, February 10, from 3 to 5 p.m. and from 6 to 8 p.m. at Dykes Funeral Home, located at 2305 Campbell Street in Valparaiso. Funeral services will take place Wednesday at 11 a.m. at Liberty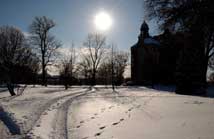 Bible Church, 824 North Calumet Avenue in Chesterton, Indiana. The funeral will be immediately followed by the burial and then a lunch back at the church. The Office of Student Services is making arrangements for a bus to transport students on Tuesday and Wednesday. The Office strongly encourages students who want to attend to choose one or the other of the events. Students who are interested in attending the visitation or the funeral should contact Adam Nelson, residence life coordinator, by e-mailing him here for details.
"This is a very sad day for the DePauw University community, which was greatly affected by news of the accident and has been praying and hoping for the best over the past few days," said DePauw University President Robert G. Bottoms. "We send our deepest sympathies and warmest feelings to the Mogck family."
Kellen Mogck, a wide receiver and kick returner on DePauw's football team, lost control of his car on an icy road outside of Greencastle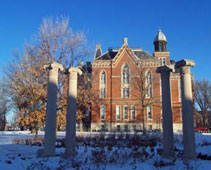 just after 7 p.m. Thursday. Police say his car hit several trees after it left the road. Freezing rain had been falling over central Indiana for much of the day. Kellen would have celebrated his nineteenth birthday later this month.
DePauw's Counseling Services, on the second floor of the Union Building, will be open and available to students and staff who wish to talk with a counselor. Additionally, the Peace Chapel, located on the north side of Gobin Church, is open 24 hours a day.
Back