Women's & Men's Basketball Teams Both Win at Trinity
February 9, 2004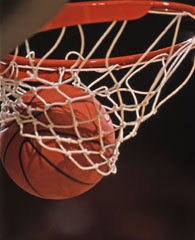 February 9, 2004, Greencastle, Ind. - "Lindsay Houin hit a follow shot with 14 seconds left in overtime and Amy Argetsinger hit 1 of 2 free throws with seven seconds remaining as DePauw stopped Trinity's 10-game winning streak with an 84-81 upset Sunday at Sams Gym," notes today's San Antonio Express of yesterday's women's basketball game in Texas. The victory ties DePauw and Trinity, last year's Division III national champion and ranked second nationally this year, with the best mark in the Southern Collegiate Athletic Conference at 9-1. Of the men's game, the newspaper writes, "Alex Stewart scored a game-high 20 points as DePauw snapped Trinity's eight-game winning streak." The final in the men's game was 68-64. Trinity came into the game ranked 15th in the nation.
Access the Express' recap of the women's game by clicking here and read the item on the men's contest here.
Visit the Web page of DePauw's women's team, ranked 18th in the nation, by clicking here. The men's team is now 13-8 overall and 6-4 in the SCAC. Read more here.
(action photo by Marilyn E. Culler)
Back