ABC's John McWethy '69 & Poynter's Bob Steele '69 to Discuss 'The Ethics of War Journalism' Thursday
February 9, 2004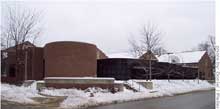 February 9, 2004, Greencastle, Ind. - Two media professionals who are both 1969 graduates of DePauw University -- ABC News Correspondent John McWethy and Bob Steele, Nelson Poynter Scholar for Journalism Values at the Poynter Institute -- will return to their alma mater this Thursday, February 12, to discuss "The Ethics of War Journalism: Are Embedded Journalists In Bed with the Military?" The program, sponsored by the Media Fellows program, will begin at 7:30 p.m. in Watson Forum of the Eugene S. Pulliam Center for Contemporary Media. The event is free and open to the public.
John McWethy reports on military and diplomatic aspects of U.S. foreign policy, primarily from the Pentagon in Washington. In addition to his daily coverage for World News Tonight with Peter Jennings, he also files stories for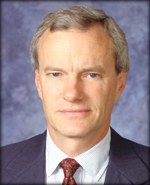 Nightline, Good Morning America and other ABC News broadcasts. He joined ABC in 1979 as chief Pentagon correspondent, covering the Iran hostage crisis and the Soviet invasion of Afghanistan. McWethy has received five national Emmy Awards for his participation in World News Tonight's coverage of September 11, 2001, ABC's millennium coverage and individual reporting on Ross Perot, the Persian Gulf War and the Soviet military. From 1973 to 1979, McWethy was a reporter for U.S. News & World Report, the last two years as chief White House correspondent. He began his career in journalism at Congressional Quarterly.
McWethy delivered the commencement address to DePauw's Class of 2003 last May 18. Read about his speech, and access photos and audio and video clips, by clicking here.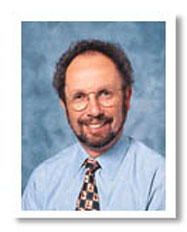 The Poynter Institute is a school for journalists, future journalists, and teachers of journalists. Prior to taking his current position last year, Bob Steele directed Poynter's ethics programs for 14 years. Before joining the Institute, Steele spent 10 years as a television news reporter, executive producer, and news director in Maine, Wisconsin, and Iowa. He also taught at the University of Maine for five years. Steele has conducted ethics workshops for more than 75 newspapers, television stations, and media companies.
Read more about John McWethy by clicking here. Access Bob Steele's biography here.
Learn more about the Media Fellows program here.
Back