Actress Anita Dashiell-Sparks to Perform and Present Workshop on Friday
February 10, 2004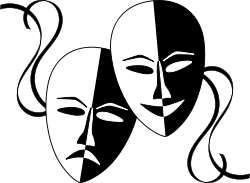 February 10, 2004, Greencastle, Ind. - Artist and educator Anita Dashiell-Sparks will present an afternoon workshop called "Body Language: Theater & Movement" at the DePauw University Performing Arts Center's Kerr Theatre from 12 to 2:50 p.m. on Friday, February 13. Dashiell-Sparks will also hold a sharing/performance at 4 p.m. on Friday. Admission is free to both events, although the workshop requires pre-registration. Refreshments will be offered following the performance.
Anita Dashiell-Sparks is based in New York and Los Angeles and has performed on Broadway, off-Broadway, as well as in regional theatre productions. Her Broadway credits include Night Must Fall (starring Matthew Broderick) and The Sunshine Boys (starring Tony Randall and Jack Klugman). She has also made recent television appearances on popular shows including Friends, The West Wing, and The Division. Off-Broadway, she has starred in I Stand Before You Naked, produced by WET at the Harold Clurman Theater and Wilberforce, produced by NYTW at Dartmouth. A recent graduate of the prestigious New York University's Tisch School of the Arts Graduate Arts Program, she is a Maryland Distinguished Scholar.
She earned an undergraduate degree in theater performance at the University of Maryland at College Park.
In addition to being an accomplished stage and screen performer, Dashiell-Sparks is an avid arts educator of theatre and dance. She has taught and developed curriculum for organizations across the country, including the National Foundation for the Emotionally Handicapped, Dreamyard Drama Project, The Public Theater/New York Shakespeare Festival, Vineyard Theatre, TADA! Theatre and Dance, and the On Your Toes Dance Studio. She has also taught at Barnard College in New York, New York University, and the University of Southern California's School of Theatre. During 1998-99, she was awarded a Fox Foundation Grant to tour the work for youth and community service organizations in New York City.
Friday's workshop will focus on the use of creativity and imagination
to experience non-verbal and verbal communication through improvisation, gesture, rhythm, shape and form, sensory imagery and more. Designed for actors and dancers, the workshop will help participants to develop a connection with the body as an expressive instrument. Participation in the workshop is limited. To register, contact Susan Anthony at (765) 658-6558 or e-mail here. The 4 p.m. performance on Friday will include excerpts from Dashiell-Sparks' solo performance piece, Resurrection.
Back