Jana Mathis '99, Assistant Coach at #15 DePaul, Profiled in Newspaper
February 12, 2004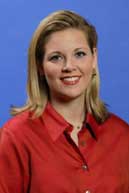 February 12, 2004, Greencastle, Ind. - "After graduating from DePauw in Greencastle, Indiana, [Jana] Mathis interned with the Arizona Diamondbacks when she received an offer from Fenwick [High School] coach Dave Power to return home as an assistant coach," notes an article in Illinois' Buffalo Grove Countryside on Mathis, a 1999 graduate of DePauw, who is an assistant women's basketball coach at DePaul University in Chicago. "Mathis was a regular as a youth basketball player at [DePaul head coach Doug] Bruno's camps each summer at Carthage College or Illinois Benedictine," writes George M. Wilcox. "Now 26, the Barrington graduate is enjoying her second season as Bruno's assistant coach."
The article notes that in her first job out of college assisting Dave Power at Fenwick High School, Mathis' team finished third in the 2000 Class AA tournament and won the 2001 state championship. "Then Mathis gambled on her coaching career by taking a major pay cut from a full-time job at Fenwick to join Bruno as his director of basketball operations, which oversees off-the-court activities. 'I slowly moved my way up and I'm very lucky to be with two of the best coaches (in Power and Bruno),' Mathis said. 'I knew Doug and I knew his reputation, so I wanted to be under him. If it had to be director of operations, then that's what I was going to do.'"
Wilcox writes, "The move paid off after one year when Mathis replaced Lisa Ryckbosch as an assistant, and now is in charge of the team budget, film/video and recruiting, along with working with post players on the court." DePaul's team has a 20-2 record this season and is ranked #15 in the nation.
You can access the complete article online by clicking here. Read Jana Mathis' online biography here.
Back