Technology with DePauw Roots Promotes Classroom Interaction and Engagement, Prof. Dave Berque Writes
February 12, 2004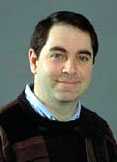 February 12, 2004, Greencastle, Ind. - "Ensuring students are engaged and have the opportunity to collaborate with teachers and classmates are essential concepts to modern theories of learning," writes Dave Berque, associate professor of computer science at DePauw University, in the newsletter of Dynamic Knowledge Transfer, LLC. "An unfortunate alternative has become the norm. Instead of interaction and collaboration, students are often turned into note-taking machines, mechanically copying the instructor's notes with no effort to comprehend, engage the material or exchange ideas with other students." Dr. Berque serves as an educational technology consultant to the company and originated work on an electronic note delivery system that is now being embraced on a national level.
"Even when teachers use technology such as Microsoft PowerPoint to enhance their presentation, students are rarely engaged in interactive learning activities," Professor Berque writes.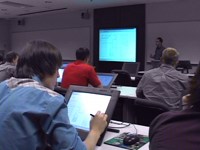 "Tools like PowerPoint are used as presentation systems to direct a message at the students. Providing the active learning environments urged by the National Research Council requires moving beyond the old concept of a presentation system to a new concept called an interaction system. Pen-based computers, Tablet PCs and interaction systems are now being used at colleges and universities around the country to promote student engagement in classroom activities. For example, DePauw University, a private university in Greencastle, Indiana, has established pen-based computing classrooms, nicknamed 'collaboratories.' The classrooms provide a Tablet PC or video tablet for each student and the teacher's pen-based computer is supplemented with a rear-projection touch-sensitive electronic whiteboard."
Berque notes that the software now being marketed as "DyKnow" by Dynamic Knowledge Transfer, "allows students and teachers to share written information during class...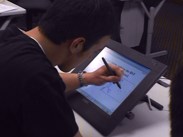 To date, DyKnow has been used in about twenty courses drawn from disciplines such as computer science, mathematics, history, communications, psychology, and Japanese language. Reaction to the system has been positive. For example, in a recent survey of 117 students enrolled in five courses that used the system, students were asked to indicate the extent to which they agreed that using DyKnow enhanced their understanding of the course material. On a scale of one (strongly disagree) to five (strongly agree) the mean response was 4.3 (86% approval). When asked to indicate the extent to which they agreed that using DyKnow provided them with a better set of notes the mean response was an even higher 4.6 (92% approval)... Clearly, interaction systems will soon overtake presentation systems as the gold standard for classroom technology."
You can read the complete article by clicking here.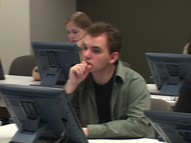 The work of Dave Berque, who was named the 1997 U.S. Professor of the Year for baccalaureate colleges by the Council for Advancement and Support of Education, has been featured in stories by a number of media outlets, including CNN and USA Today. You can read more here, here and at ABCNews.com.
Also available is a video that shows Professor Berque and the system in a classroom setting:

[DOWNLOAD VIDEO: "See The Video" 1427KB]. DyKnow was implemented at USC. You can read about that here.
Back