Vernon Jordan '57 & Steve Sanger '68 Share DePauw Memories at Televised Event in Minneapolis
February 12, 2004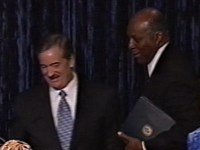 February 12, 2004, Greencastle, Ind. -
[DOWNLOAD VIDEO: "The DePauw Connection" 739KB] "The part I relate to most, on a personal level, is chapter three, which covers Vernon's college years at DePauw University in Greencastle, Indiana," General Mills Chairman and CEO Steve Sanger said as he clutched a copy of Vernon E. Jordan Jr.'s memoir, Vernon Can Read!. "And I relate to that because I went to DePauw University many, many years after Vernon did, of course," Sanger, a 1968 graduate joked, as he introduced Jordan, a 1957 DePauw alumnus, at the Dr. Martin Luther King Jr. Holiday Breakfast, held in Minneapolis on January 19 and rebroadcast several times by Twin Cities Public Television.
Sanger, whose General Mills Foundation sponsored the King breakfast, noted Vernon Jordan's many achievements -- including his service as president of the National Urban League, executive director of the United Negro College Fund, and his service as and adviser to President Bill Clinton.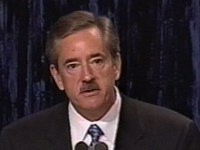 Sanger recalled the night the spring of his senior year, when he learned that Dr. King had been shot and killed in Memphis, Tennessee.
[DOWNLOAD VIDEO: "Picking Up the Torch" 2700KB] "And I remember the shock that swept our campus that night as we wondered, as students and as all of America wondered, who would step forward now? Who could lead now to carry on the dream?"
Sanger continued, "As it turned out, no one person could ever replace Martin Luther King. Rather many African-American leaders would step forward in the civil rights movement, in business, in government, and in the professions, to carry on the struggle for racial equality in America. As I talked to my fellow DePauw students that night,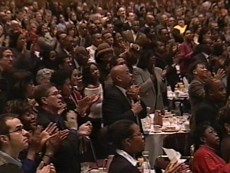 we could not know that one of the foremost of those new leaders would be a man who had walked our own campus just a decade before. We would have been very proud if we'd known that then, and I am very proud and honored to know that now."
The two men exchanged a hug at the podium, then Jordan offered,
[DOWNLOAD VIDEO: "Jordan on Sanger" 1002KB] "Steve Sanger is a friend of mine, a fellow alumnus, as you've heard, from DePauw University, a wonderful little school in Greencastle, Indiana. Steve is one of the leading chairmen and CEOs in American industry."
In his speech, which was bookended by long standing ovations, Vernon Jordan called on the crowd that filled the Minneapolis Convention Center to carry on Dr. King's dream.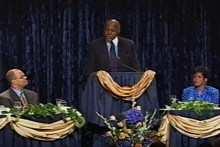 [DOWNLOAD AUDIO: "Keeping the Dream Alive" 449KB] "Every night a billion people go to sleep hungry in a world of unparalleled riches. The overwhelming majority of the world's poorest of the poor are brown or black. W.E.B. DuBois was right when he said, 'The problem of the 20th century will be the problem of the color line.' This morning I say that the problem of the 21st century remains the same problem of the color line: the apportionment of wealth and of misery based on race."
You can learn more about the breakfast at Twin Cities Public Television's website by clicking here.
Vernon Jordan marked the release of Vernon Can Read!
with a speech at DePauw's Old Gold Convocation on October 27, 2001, in which he spoke of his days as a student in Greencastle (access a story with video and audio clips here).
[DOWNLOAD AUDIO: "No Regrets" 346KB] "If I had it to do it over again, I would come back here," Jordan said to the crowd gathered in Kresge Auditorium. "And that's not rhetoric, that's the truth. I got a very good education, I made very good friends [and] I was able to participate in the University as a Trustee."
Back