Prof. Ken Bode Examines Questions About President's Military Service in Star Op-Ed
February 13, 2004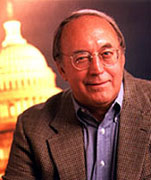 February 13, 2004, Greencastle, Ind. - "To this day, Vietnam remains a scar on the national conscience, a war that divided generations and called young men to a duty in which many saw neither legitimacy nor purpose," writes Ken Bode, Eugene S. Pulliam Distinguished Professor of Journalism at DePauw University, in an op-ed published in today's Indianapolis Star. Bode examines the recent history of scrutinizing a political candidate's military service, and specifically, delves into questions that have been raised about President George W. Bush's tenure in the Texas Air National Guard.
Professor Bode writes, "Evidence indicates that Bush did have political help in jumping over a waiting list of about 500 to enter what was called the 'champagne unit' of the Texas Guard, joining the sons of Treasury Secretary John Connally and Sen. Lloyd Bentsen. One member of the unit recalls, 'Most of us were members of the Houston and River Oaks country clubs.'"
The former senior political analyst for CNN concludes, "Pay stubs and tax records may eventually determine whether the young George W. met his National Guard obligations or was, as Democrats charge, a no-show. But when the president said on Meet the Press that if his unit had been activated he would have gone to Vietnam, he was really misleading the public. The 147th Fighter Group of the Texas Air Guard was never going to see real war. The

Champagne Unit was a haven from Vietnam. Everyone, especially Bush, knew it then, and he knows it now."
You can access the column in its entirety at College News.org.
Ken Bode's other recent op-eds on Campaign 2004 can be accessed by clicking here, here and here. He reviewed the new biography, Lyndon B. Johnson: Portrait of a President in the Boston Globe. Read more here.
Source: Indianapolis Star
Back