It's Now Easier to Find WGRE on the Web
February 14, 2004
February 14, 2004, Greencastle, Ind. - If you count on DePauw University's student-run radio station WGRE to keep track of Tiger sports and campus news and events, you'll be happy to know that it's now easier to find online. The station's URL, which was rather lengthy before, is now simple to remember: www.wgre.org.
"We were looking for a way to make it easier to promote the WGRE Web site," says Chris Newton, the station's operations manager. "People probably had to pull out a scrap of paper to write down and remember our old address, which is still functioning. This is just another, more accessible, door," added Newton, a 1985 DePauw graduate who served as station manager during his student days.
WGRE was founded in 1949 as the first 10-watt educational radio station licensed by the Federal Communications Commission (FCC) and was a finalist for a Crystal Award in 1997, the only non-commercial radio station to make it to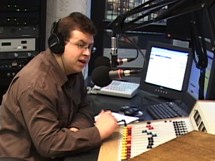 the finals. Today, a staff of nearly 200 DePauw students maintain the 24-hour-a-day, 7-day-a-week operation.
Along with its alternative music format, WGRE serves the Putnam County area with local news and sports updates and is also the exclusive radio home of DePauw Tiger athletics broadcasts, including football, men's and women's basketball and baseball.
Back