Head Football Coach Bill Lynch Quoted in Indianapolis Star
February 14, 2004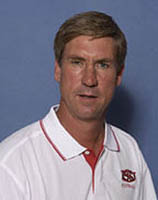 February 14, 2004, Greencastle, Ind. - An Indianapolis Star story on Mike Neu, coach of the Arena Football League's New Orleans VooDoo, includes a quote from DePauw University's new head football coach. "'Anybody who coached him back then could tell he'd be a very good coach,' said DePauw coach Bill Lynch, Ball State's quarterbacks coach for Neu's first three seasons. 'Any success he has, he deserves. He has a great future in the coaching profession.'" Neu led Ball State to the Mid-American Conference title in 1993.
You'll find the complete story at the Star's Web site by clicking here.
Bill Lynch, former head coach of Ball State and Butler Universities, was named December 23 to lead DePauw's football program (read more here), succeeding DePauw's all-time winningest coach Nick Mourouzus,

who retired at the end of the 2003 season (read more here).
Today's Star also notes the Chicago Bears' hiring of 1992 DePauw graduate Rob Boras as tight ends coach (read more here) and mentions DePauw's 1990 basketball team, the runner-up for the national Division III championship that year. The story that includes both items can be found here.
Back