Annie Corley '82 in Three Oscar-Nominated Films, Critic Notes
February 15, 2004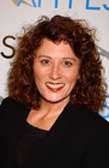 February 15, 2004, Greencastle, Ind. - "Remember Annie Corley?," asks Indianapolis Star film critic Bonnie Britton in her column today. "The DePauw University graduate is not only making major movies, she appears in three films released in 2003 that are up for Oscars. In Monster, she's gotten good reviews as Donna, who takes in Christina Ricci's character Selby, her niece, at the behest of the girl's father. It's one of her meatiest recent roles. A big break came in 1995 with The Bridges of Madison County, in which she played Meryl Streep's daughter. She's also Mrs. Pollard, the mother of jockey Red Pollard (Tobey Maguire) in Seabiscuit. In 21 Grams, she's listed as 'Trish,' though she's not one of the main characters." (photo by R. Karnbad)
Britton adds, "In 2002, Corley played Coach Rivers in the basketball comedy Juwanna Mann. (Vivica A. Fox had a lead role in that one.)"
You can access the article at the newspaper's Web site by clicking here.
Read more about Annie Corley, a 1982 DePauw graduate who was active in DePauw Theatre as a student, by clicking here.
Back