DePauw's Basketball Teams Both Post Wins Over Rhodes
February 16, 2004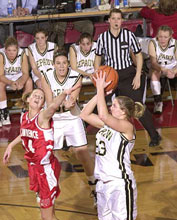 February 16, 2004, Greencastle, Ind. - "The Tigers got their 10th consecutive win in a Southern Collegiate Athletic Conference game at home," the Indianapolis Star writes of yesterday's victory by DePauw's women's basketball team over Rhodes College, 82-51. "Amy Argetsinger and Sarah Zondor each had 17 points to lead DePauw (20-3, 11-1)," which is ranked #12 in the the nation in Division III. DePauw's men also prevailed Sunday, handing Rhodes a 68-66 defeat.
The Star notes, "The host Tigers (15-8, 8-4 Southern Collegiate Athletic) won after rallying from a 10-point deficit with seven minutes to play. Matt McDonald led a balanced DePauw attack with 11 points and Reid Sakel followed with 10."
You can access the article online by clicking here. Visit the Web page of DePauw's women's team by clicking here. Read more about the men's team here.
(photo by Marilyn E. Culler)
Back