Construction Begins on Trails Within DePauw Nature Park
February 19, 2004
For Larger Maps & Photos, Click Here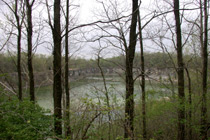 February 19, 2004, Greencastle, Ind. - It's official: construction is underway on the 481-acre DePauw University Nature Park. Crews have begun the process of building trails, work that will continue through the spring and summer, with completion of the trail system set for the beginning of the fall semester.
During the construction period, several structures deemed unsafe will be demolished and the use of some areas of the park will be restricted. Persons wishing to access the Nature Park during construction are urged to first contact the Park Ranger, Brien Holsapple, at (765) 658-4261, or by sending an e-mail here. He will be able to direct you away from the restricted areas and help to coordinate activities in the park.
Hanson Aggregates mined a limestone quarry on the site, which is located one-third of a mile from the western edge of the DePauw campus, for nearly a half century
(map shows the new Nature Park in yellow, the existing DePauw campus is in red). The company has agreed to donate 280 acres of the land, and lease the remaining 178 acres to the University for $1 annually for ninety-nine years. DePauw acquired 23 acres of adjacent property to increase the total to 481 acres.
The Nature Park will feature as many as four trails for walking, jogging, hiking and biking; arboretums; a canoe launch; and outdoor classrooms. Potentially at a later time, amenities could be added, including a lodge for retreats and overnight guests, as well as an outdoor amphitheater. You can access a map illustrating the property, including the proposed trails, online by clicking here.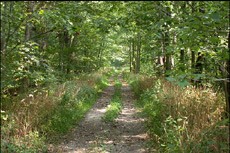 A steering committee has been appointed by the University to determine uses for the park. In the fall, the committee will solicit and evaluate ideas for what the Nature Park might eventually include. Comments and suggestions can be sent to professor of biology Wade Hazel, chair of the steering committee, by e-mailing here.
Read the original, September 10, 2003 announcement of the DePauw Nature Park by clicking here.
Back