Tim Bennett '73 Named COO of American Electronics Association
February 19, 2004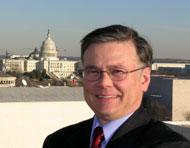 February 19, 2004, Greencastle, Ind. - Tim Bennett, a 1973 graduate of DePauw University, has been named chief operating officer of AeA (American Electronics Association), the largest high-tech trade association in the United States. Bennett had been serving as AeA's senior vice president international.
"Tim has been with AeA almost five and a half years and has run a superb international program that has proven to be of enormous benefit to our members," said William T. Archey, president and CEO of AeA. "He has also demonstrated superior management instincts and abilities which will be especially important in his new position. In addition, Tim understands the importance of the policy work of AeA and how to integrate that work into the operations of our extensive field operation consisting of 17 local councils throughout the United States."
Tim Bennett joined AeA in October 1998 and has more than 28 years experience in the fields of international trade and investment, economic development, public affairs, and issue management. Bennett served almost 11 years with the US government, primarily with the Office of the U.S. Trade Representative (USTR) in the executive office of the president. During that time his positions included chief U.S. negotiator with Mexico, one of the lead negotiators for the Uruguay Round of GATT negotiations, the first USTR representative posted in Brussels in the U.S. Mission to the European Union, and executive director of the Generalized System of Preferences.
Following his government career, Bennett spent seven years as vice president of SJS Advanced Strategies, the non-legal consulting division of Steptoe & Johnson, a Washington, DC-based law firm. Immediately prior to accepting his AeA position, Bennett spent more than two years working in New York City with the international public relations firms Hill & Knowlton and Fleishman-Hillard on foreign investment promotion,
corporate positioning, crisis preparedness, and crisis management. An AeA news release notes that "Bennett received his bachelor's degree from DePauw University and his master's in international relations from the Johns Hopkins University School of Advanced International Studies." Access Tim Bennett's biography here.
Advancing the business of technology, AeA is the nation's largest high-tech trade association. AeA represents more than 3,000 companies with 1.8 million employees. AeA's more than 3,000 members span the high-technology spectrum, from software, semiconductors, medical devices and computers to Internet technology, advanced electronics and telecommunications systems and services. Visit AeA's Web site by clicking here.
Back