European Organist Peter Planyavsky in Concert March 5
February 20, 2004
February 20, 2004, Greencastle, Ind. - A world-class European organist will perform at the DePauw University Performing Arts Center on Friday, March 5. Peter Planyavsky, the organist at St. Stephan's Cathedral in Vienna, will be performing works by Bach, César Franck, Alexandre P.F. Boëly and other composers on the recently installed J. Stanford Smith concert organ in Kresge Auditorium. The concert begins at 7:30 p.m. Planyavsky will also present an organ and improvisation master class on Saturday, March 6, from 10 a.m. until noon. Admission is free to both events. Those interested in performing at the master class should contact Carla Edwards at (765) 658-4381 or by sending an e-mail here.
Born in Vienna in 1947, Planyavsky began studying at the Hochschule for Music and Performing Arts in Vienna at the age of 12. By 1969, he had earned a master's degree in organ and was appointed Cathedral Organist at St. Stephan's Cathedral in Vienna, where he is still active today. Planyavsky is also active as a recitalist, workshop and master class coach, conductor and member of competition juries, and is well-known for his organ compositions and recordings. He has toured the world and has been the recipient of many honors and awards, such as the Municipal Music Award of the City of Vienna (1976), the SANDOZ Fine Arts Award (1976) and the National Award in Music of the Republic of Austria (1991). In 1996, he was elected head of the department of church music at the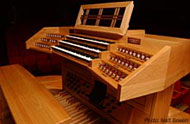 University for Music and Performing Arts in Vienna, where he had been professor of organ and improvisation since 1980. According to the Rheinishche Post, Planyavsky is a "spectacular organist with an original and highly individual personal style* made possible by his stupendous technique."
For more information about this event or other upcoming School of Music events, call (765) 658-6732 or click here.
Back