DePauw Senior is Candidate for State Representative
February 24, 2004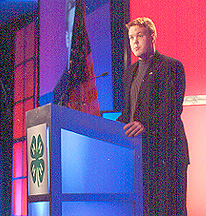 July 6, 2001, Greencastle, Ind. - "I am running for office to positively impact District 44 and the State of Indiana like no other candidate can -- a young person wanting to save jobs for young people graduating from high school and college," says DePauw University senior Eric A. Wolfe, who has filed as a candidate for Indiana state representative. "Jobs need to be created in District 44 and stay in Indiana, so our young people will be able to reside and raise families in their hometown communities," he adds. District 44 covers Putnam County, and parts of Clay, Parke and Vigo counties. Wolfe is a lifelong resident of Brazil, in Clay County.
"I can't wait to be a voice in Indianapolis for the 44th District and forge partnerships that improve the lives of Hoosiers," said Wolfe. "I have a positive attitude and look for solutions rather than dwelling on the problems."
Eric Wolfe has interned in U.S. Senator Evan Bayh's Washington, D.C. press office,
and has served as executive director of the National 4-H Youth Directions Council. He managed the Clay County Youth As Resources program in 2000, and has been recognized as a "Daily Points of Light" national service winner (read more here) for his community service efforts. Wolfe has been an active volunteer within the Brazil Lions Club, AmeriCorps, and at Asbury Towers retirement home and Ridpath Elementary School in Putnam County.
Wolfe's candidacy is briefly noted in a story in Greencastle's Banner-Graphic. Access the article by clicking here.
Back