Plans for 2004 Commencement DVD Announced, Pre-Order Yours Today
February 25, 2004
Order Your Commencement DVD Here
February 25, 2004, Greencastle, Ind. - It's a day students and their parents, siblings and relatives never forget -- graduation from college -- and DePauw University's Class of 2004 will be able to cherish and relive their commencement memories on today's most popular, high-quality digital video format. For a third year, DePauw's Office of Media Relations and Instructional Media Services will team up to produce a DVD of commencement, which in addition to providing crystal-clear video and sound, will also allow users to instantly access particular scenes, including a direct link to each letter of the alphabet as the names of graduates are called.
The discs are available for $25 for the first copy, and $10 for each additional copy being sent to the same address. You can access an online order page by clicking here.
DePauw's 165th annual commencement ceremony will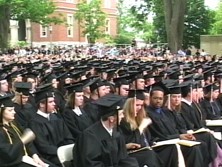 take place Sunday, May 23, and will feature a speech by Nick Mourouzis, DePauw's all-time winningest football coach, who retired at the end of the 2003 season (read more here).
"With videotape there's a lot of guesswork when you're rewinding back and forth trying to find a particular scene," says Ken Owen, director of media relations and a 1982 graduate of DePauw. "Students and parents have told us they really enjoy the DVDs, which allow you to very quickly find the spot in the program you want to see. If your last name is Lee, for instance, and you click on the letter 'L' in the menu, you're immediately taken to the first person whose last name begins with the letter 'L' receiving his or her diploma. Plus, DVDs are much more durable than video cassettes, and I wouldn't be surprised if some
our graduates are showing the disc to their grandchildren someday."
This marks the sixth DVD that DePauw has produced -- the 2001 & 2002 commencements and the last three Monon Bell Classics received the digital treatment. The Indianapolis Star called the 2003 Monon Bell DVD "a splendid keepsake." The discs are mastered by Owen and professionally replicated in limited quantities by Sony Digital Disc Manufacturing. Read more about the Monon Bell discs and access an online order form by clicking here.
The May 23 ceremony is scheduled to begin at 1 p.m. on East College lawn. If the weather is inclement, the event will be moved inside to the Lilly Center.
Back