New Crain Lecture Series Will Bring Nation's Newsmakers to DePauw
February 25, 2004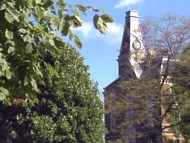 February 25, 2004, Greencastle, Ind. - John Kerry's biographer, the president of the American Conservative Union, and Howard Dean's campaign manager will be the first three guests brought to DePauw University by the new Gertrude and G.D. Crain Jr. Lecture Series. Endowed by Rance Crain, president of Crain Communications and a member of DePauw's Class of 1960, the new series, which honors Mr. Crain's parents, will enrich the DePauw environment in the area of public affairs and public issues. The program will be supervised by Ken Bode, Eugene S. Pulliam Distinguished Professor of Journalism at DePauw.
The Crain Lecture Series will begin Tuesday, March 16, with a visit by Joe Trippi, who managed the presidential campaign of Howard Dean. On Monday, April 5,

Douglas Brinkley, author of the John Kerry biography, Tour of Duty, will come to campus for an event that several members of the Crain family are expected to attend. David Keene, chairman of the American Conservative Union, will speak as part of the series on Monday, April 26. All three events (and most future Crain Lectures) will begin at 4 p.m. in Watson Forum of the Eugene S. Pulliam Center for Contemporary Media. All Crain Lectures are free and open to the public. The programs will feature a discussion between Professor Bode and each guest and maximum opportunity for audience participation.
"With the explosion of cable news and the Internet, it is no longer accurate to say that students live in a bubble at DePauw," Ken Bode says. "But the objective of this series is to bring those we read about and see on the TV news to our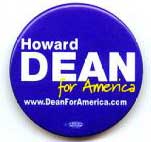 campus and to allow students and faculty to hear from them and talk to them directly."
The Crain Lecture Series' first guest, Joe Trippi, is credited with pioneering the use of online technology in the Dean campaign to organize what became the largest grassroots movement in presidential politics. As a political analyst and commentator, Trippi appears regularly on MSNBC and FOX News Channel. He also has worked in the campaigns of Edward Kennedy, Walter Mondale and Gary Hart.
Noted historian Douglas Brinkley is director of the Eisenhower Center for American Studies at the University of New Orleans. His book, Tour of Duty: John Kerry and the Vietnam War, has been at the center of the controversy about how President George W. Bush
and putative Democratic nominee John Kerry performed military service during the Vietnam war.
David Keene leads the American Conservative Union, the nation's oldest conservative lobbying organization. Keene has worked in the presidential campaigns of Ronald Reagan, George H.W. Bush and Bob Dole. He writes a weekly column for the Capitol Hill newspaper The Hill.
Professor Bode (seen at left), former chief political correspondent for CNN says the Crain Lecture Series will complement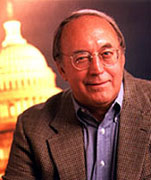 The Timothy and Sharon Ubben Lecture Series, which was launched in 1986, and has brought national and world leaders to DePauw, including 2004 presidential candidate and retired General Wesley Clark, former British Prime Ministers Margaret Thatcher and John Major and next month's return visit by former Israeli Prime Minister Shimon Peres (read more here). "The Ubben Series is designed to bring national and world leaders to DePauw," says Bode. "The Crain Series will be more 'on the news,' aiming to attract visitors who will talk about what is going on in today's news cycle."
Rance Crain's company publishes 30 magazines including Advertising Age, Electronic Media and Crain's Chicago Business. The company was founded in 1916 by Rance's father, G.D. Crain,Jr, and his mother, Gertrude Crain later served as company chairman.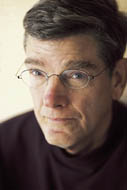 It is to honor his parents that Rance has established The Gertrude and G.D. Crain Jr. Lecture Series.
Rance Crain (in photo at right) was an undergraduate at DePauw before transferring to Northwestern to study at the Medill School of Journalism, where he served as the sports editor of the Daily Northwestern. Crain has remained loyal to DePauw, and served as a charter member of the advisory board of the Center for Contemporary Media from 1992 to 2000.
For more information on The Gertrude and G.D. Crain Jr. Lecture Series, contact Ken Bode via e-mail by clicking here.
Back