Newspaper Notes Uncommon Success of Women's Basketball Team
February 25, 2004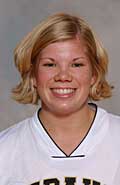 February 25, 2004, Greencastle, Ind. - "DePauw's Lady Tigers have lost 10 seniors to graduation in the last two years, but haven't skipped a beat," begins an article published in today's Post-Tribune of Gary, Indiana. "Their 22-3 record gives them 20 or more for the seventh time in eight seasons. Junior guard Sarah Zondor, who ranks among the Southern Collegiate Athletic Conference leaders field goal and free throw percentages and scoring, is not surprised. 'We're having a lot of fun teasing people who doubted us,' said the sophomore from Crown Point. "
John Mutka writes, "Zondor credits DePauw's success to a better-balanced offensive approach. On Sunday she helped the Tigers earned the SCAC tournament No. 1 seed by scoring 18 of her 20 points in the first half of a victory over Sewanee. The NCAA Division III power earned it with

an overtime victory at Trinity even though both finished 13-1 in the conference. Instead of rebuilding, DePauw Coach Kris Huffman reloaded. She revamped the offense to take advantage of Zondor's skills. 'Last year we ran a high-low offense,' Huffman said, recalling a 22-5 season. 'Now we spread it out more.'"
Mutka adds, "The Tigers open the SCAC tournament Friday against Oglethorpe. Though ranked No. 10, their only guarantee of post-season play is to win it. 'It's so difficult in Division III,' Huffman said. 'There's a lot of pressure in the conference tournament.' Zondor relishes the challenge. 'We're determined to get it done and think we can do some damage,' she said."
You can access the complete story at the newspaper's Web site by
clicking here. Visit the women's team's Web page here.
DePauw's men's basketball team is also heading to the SCAC tournament. DePauw has earned the fifth seed and will face fourth-seed Southwestern in the final quarterfinal game at Rhodes College in Memphis, Tennessee, on Friday, February 27. Get the latest on the men's team by clicking here.
Back