Company's Catalog Features Images of DePauw
February 26, 2004
February 26, 2004, Greencastle, Ind. - DePauw University is featured in five photos, including the cover, in Draper Inc.'s new catalog. Draper manufactures projection screens that are in use in auditoriums and classrooms around the DePauw campus. Several of the photos used in the catalog also feature DePauw logos, such as the image taken in the collaboratory in the Percy Lavon Julian Science and Mathematics Center, which is seen at the top of this story. Draper's catalog is distributed worldwide.
"We couldn't resist DePauw's rich combination of historic buildings and high-tech facilities," says Penny Rutherford Sitler, advertising manager for Draper, who also happens to be a 1982 graduate of the University. "DePauw
has chosen a variety of our finest projection screens and projector lifts, and installed them in settings that combine cutting-edge function with good design. We were delighted to be able to illustrate four product pages and the cover of our new catalog in a single facility." (at right: the catalog cover features the Daseke Board Room in the Memorial Student Union Building)
Dennis A. Trinkle, director of 361° initiatives, coordinator of information services and technology, and Tenzer University Professor in Instructional Technology at DePauw, calls placement in the catalog further external affirmation of the impact of DePauw's technology initiatives. "It is easy to overlook the importance of room design and building layout to effective teaching and learning," Dr. Trinkle says. "Draper has singled out DePauw, because as part of 361° we are paying attention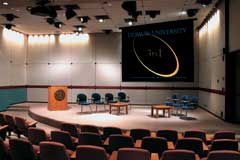 to all of the details, including how the configuration and equipping of a space can enhance teaching and learning." (at left: Watson Forum in the Eugene S. Pulliam Center for Contemporary Media)
In November, Trinkle, a 1991 graduate of DePauw, traveled to California to accept the 2003 EDUCAUSE Award for Systemic Progress in Teaching and Learning on behalf of DePauw and its 361° Initiatives. The Award has never before been presented to a university or college that is not a doctoral/research institution (read more here).
In April 2003, the New Media Consortium (NMC) notified DePauw University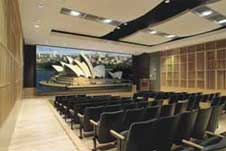 that it has been named a New Media Center for its 361° initiatives (read more here), one of only about 125 institutions worldwide to receive the designation. Dr. Larry Johnson, president and CEO of the NMC, noted, "Even among a very strong field, it was quite clear that DePauw University is a place where smart, creative people are devising innovative solutions to challenges we all face in teaching and learning. The dedication to excellence here is palpable, and students and faculty are the clear beneficiaries." (above right: the auditorium of DePauw's Richard E. Peeler Art Center)
In May 2003, DePauw was among three Indiana colleges and universities to receive Mira Awards for 361°'s
"excellence in the delivery or use of technology to further learning and educational achievement" (read more here). The award was presented by TechPoint, the leading agent for change for Indiana's technology industry.
Visit Draper's Web site by clicking here. Learn more about 361° here.
Back