New Initiative Will Enhance Teaching and Learning at DePauw
February 28, 2004
February 28, 2004, Greencastle, Ind. - An idea launched by some students and faculty members at DePauw University -- to ensure that all undergraduates are equipped with laptop computers -- will become reality. DePauw will arrange with a selected vendor to provide the laptops, which can be bundled with software and on-campus technical support, to students at a discounted price. Students will be encouraged to purchase their own laptops from the suggested vendor for use on campus next fall. By the first semester of 2005, purchase of the designated laptop will be required. In the meantime, the University is welcoming input from students and faculty members on how the initiative will be implemented and what it will entail.
"This is a natural progression and not a 'quantum leap,' because students are increasingly coming to DePauw with their own devices," says Rick Provine, director of media and user services for DePauw Information Services. The 2002 and 2001 student computing surveys showed that more than 90% of students bought and brought computers to campus and that roughly half brought laptops. The results of the 2003 survey have not yet been fully tabulated,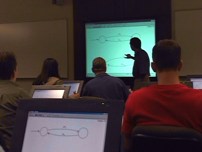 but it's estimated the numbers will climb to 95% of students having their own computers with more than 60% of them bringing laptops to campus.
At the same time, technology is increasingly becoming a part of life in and out of the classroom. More than half of DePauw's classrooms are now technology-enabled, "and with every student bringing a laptop, professors can maximize the tools they now have and know that every student is able to fully participate." notes Dennis Trinkle, director of 361º initiatives, coordinator of information services and technology, and Tenzer University Professor in Instructional Technology at DePauw. "In his new book, Ubiquitous Computing, David Brown makes a compelling argument for the need for a laptop requirement, suggesting that they improve learning, student life, and the ability of graduates to find high quality jobs and earn advanced degrees." Several other colleges and universities, including Rose-Hulman Institute of Technology, Drexel University, Wake Forest and the University of Denver have mandated laptops, "and the results have been overwhelmingly positive," Trinkle adds.
The University will put out a call for bids from computer makers, and won't know for some time exactly how much the machines will be discounted.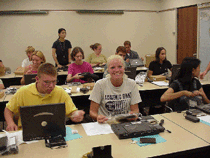 However, it's estimated the laptops could cost 15 to 20% less than what students and their families are currently paying for them through individual purchases.
At present, students who do not have personal computers on campus rely on labs in academic buildings, libraries and dormitories, for their computing needs. But the percentage of students who use the labs has been declining steadily in recent years. Today, the labs are only 40% full even in peak periods. Yet, the cost of equipping labs with computers and software, and maintaining the machines, continues to grow. DePauw spends an estimated $150,000 annually maintaining the 400 public lab computers, a figure that does not include the 160 computers in department labs.
"The public computers are paid for by all students, even though most are not benefiting from them,"
says Neal Abraham, vice president for academic affairs and dean of the faculty. "In the current economic climate, DePauw is looking for ways to keep costs in check while maintaining its high standards of excellence. Reducing the number of computer labs and ensuring standards for hardware and software to streamline our technical support and repair services will contain costs and help us hold the line on tuition, which helps every student. I'm confident the laptops will empower students in new ways and add vigor to our campus climate."
DePauw junior Jon Bailor agrees. "There is nothing more frustrating then sitting down at a university computer, ready to finalize a document that is due in ten minutes, only to realize that you saved it to the desktop in your room," he says. "Combining our wireless network and reliable 'P-drives' with conveniences of mobile computing, DePauw's laptop initiative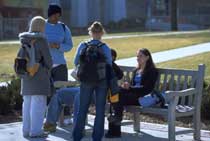 will allow students the paradoxical effectiveness of a portable, centralized workstation."
Over the past four years, DePauw's tuition has increased an average 5% annually, lower than the average annual hikes at peer institutions such as St. Olaf College (6.7%) and Grinnell College (5.9%). Students at Indiana University have seen tuition jump an average 15.6% in that time.
Back