Prof. Ken Bode Reviews Biography of Sen. John Kerry in Pittsburgh Post-Gazette
February 29, 2004
Douglas Brinkley at DePauw April 5th

February 29, 2004, Greencastle, Ind. - "Douglas Brinkley is a distinguished historian, and he brings skills as a biographer and scholar of American foreign policy to describe only selected portions of John Kerry's life," writes Ken Bode of Brinkley's book, Tour of Duty: John Kerry and the Vietnam War. Bode, Eugene S. Pulliam Distinguished Professor of Journalism at DePauw University, reviews the new book in today's edition of the Pittsburgh Post-Gazette.
"Covered here are his growing-up years, coming of age at Yale, his naval career preparing for and fighting in Vietnam and his opposition to the war as a leader of the Vietnam Veterans Against the War. In other words, much of Kerry's personal life and nearly all of his 18-year U.S. Senate career are left out. But the slice of time explored here, the 'brown-water' war fought by the U.S. Navy in the most violent years in Vietnam, is unquestionably the formative period of Kerry's biography."
Bode, nationally recognized as a political analyst at CNN, NBC and PBS, writes, "To tell this story, Brinkley had access to all of the meticulously kept notebooks, journals, letters to family and friends, even tape recordings from Kerry's combat days on the Swift Boats he commanded ...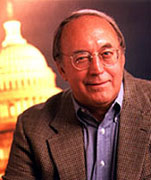 Brinkley's book is an intimate portrait of war. The reader lives with Kerry through basic training and two postings to Vietnam. You ride with Kerry, his pillowcase full of books, guitar and football stored in the main cabin of Patrol Craft Fast-44, cruising between emerald green rice paddies and seemingly placid waterways."
You can read the complete review at the newspaper's Web site by clicking here.
Ken Bode writes op-eds for the Indianapolis Star on Campaign 2004. Read about the latest essay by clicking here. On April 5, historian and author Douglas Brinkley will come to DePauw to speak as part of the new Gertrude and G.D. Crain Jr. Lecture Series. Read more here.
Source: Pittsburgh Post-Gazette
Back