Activision President Kathy Patterson Vrabeck '85 Profiled in Indianapolis Star
March 1, 2004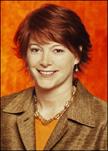 March 1, 2004, Greencastle, Ind. - Kathy Patterson Vrabeck, a 1985 graduate of DePauw University and "a 40-year-old, auburn-haired mother of two, is without a doubt a virtual anomaly in a male-dominated industry," writes Dana Knight in the Indianapolis Star. "The Indiana native recently was named president of the video game behemoth Activision Publishing, a nearly $1 billion company based in Santa Monica, California. It has been tough for some of the male egos around the office, but not for Vrabeck. 'Certainly, when I came in there were a lot of heads turned -- like, 'What's a nice girl like you doing in a place like this?' ' said Vrabeck, who grew up in Muncie, graduated from DePauw University and earned a master of business administration degree from Indiana University. 'I wouldn't call it an old boy network around here because everyone's so young. It's definitely a young boy network.'"
The article notes that Vrabeck "has held high-ranking positions at Fortune 500 companies like ConAgra and Quaker Oats," and now oversees a company that expects to reach $5 billion in revenue next year. "This past holiday season, Activision

boasted three of the top-five-selling video games," Knight adds. "Its best seller, Tony Hawk's Underground, consistently remains in the Top 10 in terms of sales of video games."
"Kathy is an outstanding leader," Ron Doornink, chief executive officer of Activision Publishing and president of Activision Inc., tells the Star, adding, "She is the right person to integrate our publishing and studio operations and to carry them forward with sound management experience."
The newspaper reports, "Vrabeck will take some time out Monday to fly home to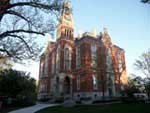 Indiana to speak at DePauw [to the Management Fellows Program]." Activision is currently developing games that tie in with the upcoming movies, Spider-Man 2 and Shrek 2. Vrabeck says, "I'm just having a ball. When you're making games, it's a lot different than getting up in the morning tasting creamed corn. It's just tons of fun."
You can read the complete story, which includes a photo of Kathy Vrabeck, at the Star's Web site by clicking here.
Back