DePauw Women's Basketball Season Ends With 68-63 Loss in Second Round of NCAA Tourney
March 7, 2004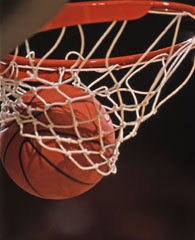 March 6, 2004, Crestview Hills, Ky. - DePauw University women's basketball team suffered only its fourth loss of the season -- but its second to Thomas More -- in losing last night 68-63 in the second round of the NCAA Division III basketball tournament. The loss on Thomas More's home floor, snaps DePauw's 16 game winning streak and finishes the Tigers season with a 26-4 record.
Read much more at the women's team's Web page here.
"DePauw is one of the hottest D-III teams in the country right now," Colleen Kane wrote in yesterday's Cincinnati Enquirer previewing the game. "The Tigers have won 16 straight games, including their conference tournament title, are ranked No. 5 in the nation in two different polls and blew away their first-round opponent by 44 points. And Thomas More (20-5), which had a first-round bye, will be the team trying to slow down DePauw (26-3) tonight at 7 p.m. at home."
Thomas More's interim head coach Jeff Hetzer tells the newspaper, "All we're hearing right now is DePauw this, DePauw that ... They don't have a whole lot of weaknesses. They're good in the post and on the perimeter ... And they're seven or e
ight deep, all solid."
Read the complete story by clicking here. Another article, in the Kentucky Post, can be found here.
Back