DePauw Theatre Presents Proof, March 12-14
March 7, 2004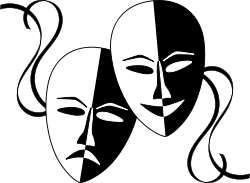 March 7, 2004, Greencastle, Ind. - DePauw University Theatre will present the play Proof, winner of the 2001 Pulitzer Prize and Tony Award, on March 12, 13, and 14 in Kerr Theatre of the Performing Arts Center. Written by David Auburn, and co-sponsored by the department of mathematics at DePauw, Proof contains adult language and parental discretion is advised.
As the play begins, Catherine, a twenty-five year old gifted mathematician, sits alone on the back porch of her Chicago home. After years of caring for her brilliant but unstable father and helplessly watching his descent into madness, she struggles with conflicting emotions: pride in her father's groundbreaking mathematical discoveries, pity and rage at his fate, and her dark fear that she may have inherited his madness along with his genius. Her confusion is compounded by the arrival of her "perfect" sister and a budding romance with Hal, one of her father's graduate students. When Hal finds a potentially explosive proof among her father's deranged scribblings, the mystery begins. Funny and compassionate, Proof explores the triumphs and frustrations in the world of higher mathematics, but it also challenges all of us to examine our demands for "proof" in our everyday lives.
The New York Daily News opined that Proof "combines elements of mystery and surprise with old-fashioned storytelling," and deemed it a "smart and compassionate play of ideas."
Director Susan Anthony chose to stage the play in Kerr Theatre so that audience members would be in close proximity to the action. Cast members include Jim Rambo as Robert, Megan Casey as
Catherine, Josie Lowry as Claire, and Andrew Cole as Hal.
Proof will be performed on Friday, March 12 at 8 p.m.; Saturday, March 13 at 3 p.m. and 8 p.m., and Sunday, March 14 at 1 p.m. Following the opening night show, members of the math department will join the cast and crew for a discussion of the issues raised in the play. A reception will follow the discussion. Tickets are $6 for adults and $3 for students and can be purchased or reserved at the DePauw University Performing Arts Center box office by calling (765) 658-4827. More information on DePauw Theatre productions is available online by clicking here.
Back