2004 Relay For Life Aims to Set Another Record May 1 & 2
March 11, 2004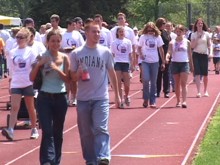 March 11, 2004, Greencastle, Ind. -

[DOWNLOAD AUDIO: "Challenging Goals" 209KB] "We've had a record-breaking year every year ever since we started in 1997," says DePauw University senior Tricia Cooksey of Putnam County Relay For Life, the event she is chairing this year. "Last year we were bigger and better than we ever thought we were gonna be. We set huge goals and we met and exceeded them, and this year we have higher goals and we're confident we'll meet and exceed them, but it is a challenge," she said. The 24-hour fundraiser for the American Cancer Society, which collected more than $162,000 last year, will begin Saturday, May 1, at noon at DePauw's Blackstock Stadium.
Cooksey says the 2004 Relay is off to a great start, with more sponsors and teams committed to the event than at the same point last year. The goal is to get 145 teams this year, about 20 more than walked the Relay last May. 2003 Putnam County Relay For Life raised more funds than any other
college-run Relay in the USA except for the University of Georgia, which has an enrollment 15 times DePauw's 2,400 students. Last spring's event drew 1,500 participants and 80 cancer survivors. Putnam County ranked in the nation's top 10 for fundraising. The American Cancer Society's Great Lakes Division has also awarded the 2003 Putnam County Relay its Heart of Relay Award for Diversity, which recognizes excellence in efforts to encourage participation by all members of the community. Putnam County Relay For Life was awarded the 2002 Heart of Relay Award for the Great Lakes Division, and the year before won the National Heart of Relay Award as the best college or university Relay in the USA.
Putnam County Relay For Life, the oldest college-run Relay in the nation, has seen phenomenal growth. In 1998, the event raised $20,000. The 1999 total of approximately $30,000 was eclipsed by 2000's $42,000.
Then, 2001 brought in $80,000, followed by $127,000 in 2002, and last May's $162,000.

[DOWNLOAD AUDIO: "A Universal Fight" 184KB] "Cancer is something that everyone is affected by, one way or another," Cooksey noted. "Whether it's a family member, a friend, or a co-worker, it's something that binds everyone. This community has been absolutely amazing in coming together to find a cure."
The event, which is staged at DePauw, brings together students, faculty, administrators and members of the Putnam County community together for a day of fellowship, celebration and remembrance. The hope is that someday the annual effort will fulfill its goal of eliminating the disease that will afflict 1.3 million new victims this year.
Tricia Cooksey (seen at right) is confident this year's event will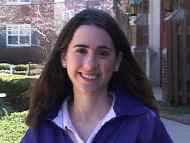 continue the tradition of success, but realizes that that will take the efforts of more than a thousand people -- individuals, co-workers, and families who have come together to make the Relay a success since its inception.

[DOWNLOAD AUDIO: "Pulling Together" 75KB] "It's a testament to [the Putnam County] community and the DePauw community and how amazing they are and how when we all come together we can do amazing things."
Volunteers are needed. To learn more about 2004 Putnam County Relay For Life click here.
Read an article in Greencastle's Banner-Graphic on this year's event by clicking here.
Back