Howard Dean's Campaign Manager, Joe Trippi, at DePauw Tuesday
March 11, 2004
Read More About the Crain Lecture Series
March 11, 2004, Greencastle, Ind. - Joe Trippi "has been reshaping the status quo to his liking for decades," wrote USA Today in January, while an October 2003 profile in Fast Company magazine stated, "Howard Dean's campaign manager has used the Internet to turn an obscure ex-governor into a real presidential contender." On Tuesday, March 16, Trippi will come to the campus of DePauw University for the inaugural Gertrude and G.D. Crain Jr. Lecture. The conversation between Trippi and Ken Bode, Eugene S. Pulliam Distinguished Professor of Journalism at DePauw, will begin at 4:15 p.m. in Watson Forum of the Eugene S. Pulliam Center for Contemporary Media, and will include what Professor Bode calls "maximum opportunity for audience participation." The event is free and open to all.
Joe Trippi is credited with pioneering the use of online technology in the Dean campaign to organize what became the largest grassroots movement in presidential politics (Dean, once the front-runner for the Democratic nomination, dropped out of the race on February 18). The cover of the New Republic magazine stated, "The Man Who Reinvented Campaigning: Joe Trippi and the Dean Internet Revolution." As a political analyst and commentator, Trippi appears regularly on MSNBC and FOX News Channel. He also has worked in the campaigns of Edward Kennedy, Walter Mondale and Gary Hart.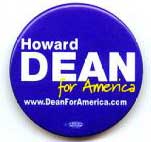 Endowed by Rance Crain, president of Crain Communications and a member of DePauw's Class of 1960, the new series, which honors Mr. Crain's parents, will enrich the DePauw environment in the area of public affairs and public issues. Read more by clicking here.
Upcoming guests in the Crain Lecture Series include Douglas Brinkley, author of the John Kerry biography, Tour of Duty, (Monday, April 5); and David Keene, chairman of the American Conservative Union (Monday, April 26).
Back