Prof. John Dittmer Presents Opening Address to Race and Place Conference in Alabama
March 12, 2004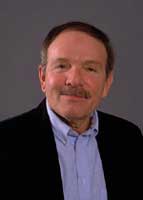 March 12, 2004, Greencastle, Ind. - "Giving a 'scathing' review of the Democratic Party during the Civil Rights movement, John Dittmer, professor emeritus at DePauw University in Indiana, kicked off the third annual Race and Place Conference at the Alabama Institute for Manufacturing Excellence building Thursday night," notes an article in today's edition of the Crimson White, the University of Alabama's student newspaper. "History professors and graduate students from across the country will give presentations about their current projects and discuss several different aspects of the Civil Rights movement today and Saturday," writes Marlin Caddell. "Dittmer said conferences like Race and Place, which is sponsored by the UA history department, provide one way for students to gain an interest in history. 'Alabama has so much history in it,' Dittmer said. 'This conference is a great opportunity to meet with other people doing work in this field.'"
The story continues, "Dittmer spoke about the conflict surrounding the Brown v. Board of Education decision and how white businessmen attempted to fight desegregation in Mississippi. 'In terms of education, these were truly the bad 'ole days,' he said. 'Businessmen began creating 'white citizen councils,' and they mounted an assault in Mississippi to collectively end any efforts at desegregating the schools.' Dittmer said it is very important for historians to discuss the Civil Rights era because 'this is the next major social movement after the abolition of the slaves.' Dittmer also discussed how certain members of the Democratic Party only supported the Civil Rights movement 'in words but not in actions.'"
Dittmer, whose 1994 book Local People: The Struggle for Civil Rights in Mississippireceived the prestigious Herbert G. Gutman Award, the Lillian Smith Book Award, the McLemore Prize from the Mississippi Historical Society and the Bancroft Prize, noted, "The easiest way of attracting students into enjoying history is to get them to see exactly what is going on in these historical moments. One of the easiest ways to do this is through the film footage and through photographs showing what happened during this era, and we are going to be showing several films during this conference."
George Rable, a University of Alabama history professor, Dittmer "raised all the major questions." Caddell notes that Professor Rable "also said Dittmer is at the forefront of historians dealing with the Civil Rights era."
You can access the complete article online by clicking here.
Back