Art Historian & NYC Gallery Owner Kristen Frederickson '87 to Speak Monday Night
March 12, 2004
March 12, 2004, Greencastle, Ind. - Kristen Frederickson, an art historian and 1987 graduate of DePauw University will present the year's fourth and final lecture in the series "Women in the Arts," Monday, March 15 at 7 p.m. in the auditorium of the Richard E. Peeler Art Center. Frederickson will speak on, "Singular Women: Writing the Artist." A book by the same name, edited by Frederickson and Sarah E. Webb, was published by the University of California Press last spring. A reception will follow the talk, which is free and open to all.
Kristen Frederickson graduated from DePauw with a major in philosophy and art history and received a Ph.D. in art history from Bryn Mawr College. She is presently the owner of Kristen Frederickson Contemporary Art, a gallery located in the Tribeca neighborhood of New York City. In her book, Frederickson explores how women artists have been "written into or out of art history" and discusses the types of memory in which the work of women artists can reside. She views her gallery as a space in which she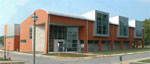 can celebrate the many forms of women's art making, and will speak about these issues and more while at DePauw.
Visit the Web site of Kristen Frederickson Contemporary Art by clicking here.
Back