"How Did They Do It?," 9/11 Commission Vice Chair Lee Hamilton '52 Asks
March 15, 2004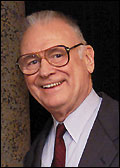 March 15, 2004, Greencastle, Ind. - "Former U.S. Representative Lee Hamilton, D-Indiana, has investigated whether the United States traded weapons with Iran for U.S. hostages, examined possible security breaches at the Los Alamos (New Mexico) National Laboratory and recommended ways to reorganize Congress. But his current job as vice chairman of the independent commission investigating the September 11, 2001, terrorist attacks might be his toughest assignment yet," writes Maureen Groppe of Gannett News Service in a story on the 1952 graduate of DePauw University. "It's as challenging an assignment as I have had," Hamilton says.
"The independent commission is supposed to provide 'an authoritative account' of the terrorist attacks, looking at, among other things, immigration and border control, terrorist financing, congressional oversight, law enforcement agencies, intelligence agencies, commercial aviation and diplomacy," Groppe writes. But Lee Hamilton offers,
"Interestingly enough, the government has not done that yet. We have pieces of it here and there, but it hasn't all been put together. Just relatively simple questions like: Why did these people do it?. . . How did they do it?. . . There are just thousands and thousands of questions."
Hamilton -- who is director of the Woodrow Wilson International Center for Scholars in Washington, D.C. -- says difficulty in accessing crucial documents, and the size of the task, have made the commission's task challenging. "It reminds me of the Kennedy assassination. You have so many theories of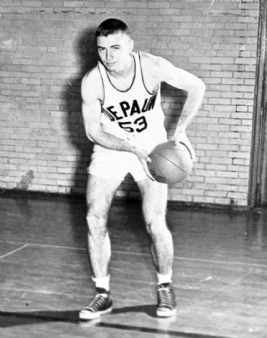 what happened and so many people in the country and in the world have an idea about it. I'm besieged with e-mails and letters and offers to help, wanting to give us information they think we may not have."
Read the entire article by clicking here.
Last April 22, Hamilton -- who was a history major and basketball standout as an undergraduate -- returned to DePauw to take part in a discussion on the Middle East with William A. Brown, former U.S. Ambassador to Israel and Thailand. You can learn more about that event, and access audio clips of the talk, here.
Back