DePauw Junior Selected for American Museum of Natural History Summer Internship
March 16, 2004
March 16, 2004, Greencastle, Ind. - Sara Baughman, a junior Science Research Fellow at DePauw University who is a double-major in geology and physics & astronomy, has been accepted for a summer internship at the American Museum of Natural History (AMNH) in New York City. Her acceptance into this program comes after a nationwide search for the best geoscience students to participate in the AMNH summer research program. Baughman was selected to work on the origin of chondrules in meteorites with Dr. Denton Ebel, a leading researcher in the field. This work will help scientists better understand the origin of our solar system, and how other solar systems might form in similar regions of our galaxy.
As part of her research, Baughman will be analyzing CAT scan data of chondrules in chondrite meteorites to help better understand the origin of these enigmatic features. In addition, she will be analyzing other meteorites with an electron microprobe and scanning electron microscope to resolve the composition and structure of additional chondrules.
Sara Baughman's acceptance into the AMNH program continues a long tradition in the department of geosciences of students participating in national internship programs. In the last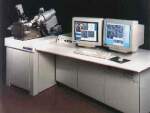 few years, other students have worked at the Chicago Field Museum of Natural History, the Museum of the Rockies, the United States Geological Survey and Wind Cave National Park.
Learn more about summer research projects at the AMNH by clicking here, and about Dr. Ebel's work here. The Museum's Web site can be accessed here.
Back