Howard Dean "Gave the Party Its Voice Back," Former Campaign Chief Joe Trippi Says in Crain Lecture
March 16, 2004
March 16, 2004, Greencastle, Ind. - When he was managing the campaign of Democratic presidential candidate Howard Dean, Joe Trippi says his attitude was,

[DOWNLOAD AUDIO: "The Party's Voice" 448KB] "We've got to be the guy that can't win. We can't win, therefore we can say whatever we want to say ... on the issues and taking it to Bush and challenging the party that hadn't been standing up to Bush. We were the guy that did that, and in the end I think that's one of the things the campaign did... we gave the party its voice back. Kerry is sounding a helluva lot more like Howard Dean today than he sounded like John Kerry circa 2003." Trippi was on the DePauw University campus this afternoon as the first guest of the new Gertrude and G.D. Crain Jr. Lecture Series.
Trippi told Ken Bode, Eugene S. Pulliam Distinguished Professor of Journalism at DePauw and moderator of the Crain Series, that the "pivotal moment"
in Dean's ill-fated run for the White House was the endorsement of former vice president Al Gore. Trippi says Dean, who as the front-runner was already facing heat from the other Democrats in the race, also began to face increased scrutiny from the media. Several gaffes in the days that followed the endorsement proved to be the undoing of Dean's candidacy.

[DOWNLOAD AUDIO: "Insurgent Odds" 509KB] "The odds are so stacked against an insurgent [candidate]," Trippi told the standing room only crowd in Watson Forum of the Eugene S. Pulliam Center for Contemporary Media.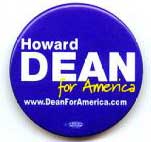 "The party rules are written to stop an insurgency, the calendar was all scrunched up to make sure that only a front-runner with a lot of money could run the slate, and that's what Kerry ended up doing. Our strategy was to get as big and bad and as strong as we could before Iowa and New Hampshire -- win both of 'em -- and try to make those rules and the scrunched calendar work for us instead of against us. You know, we came within three or four weeks of pulling it off."
Trippi is credited with pioneering the use of online technology in the Dean campaign to organize what became the largest grassroots movement in presidential politics. In fact, last night he won one of Wired magazine's "Rave Awards" for his groundbreaking work (read more here in a story in today's USA Today).

[DOWNLOAD AUDIO: "Reaching the People" 321KB]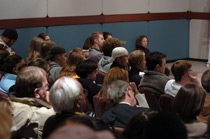 "Television made campaigns about getting a lot of rich people to give you $2,000 so you could buy a lot of television to talk to a lot of people. The Internet is now putting what television took out of the process -- people -- back into the process and getting them involved." The Dean campaign brought together 600,000 supporters via the World Wide Web.

[DOWNLOAD AUDIO: "The Future" 573KB] "What I want to do, regardless of whether I ever do another campaign or not, is to help keep building the tools and the way... we're a democracy that needs self-government; self-government requires people participating in it. Fifty percent of American's aren't voting now... the Internet is a way to bring people in and let them organize themselves. I think as more people figure out how to do that it's going to be better for our democracy -- whether Republicans figure out how to use it
better than the Democrats, that's up to the two parties to fight that out -- but, in any case, it's the first medium that actually gets people back involved and that's good for the country."
As John Kerry searches for a vice president, Joe Trippi believes John Edwards would be a very good selection, and also gave a thumbs-up to Senator John McCain, a Republican, whose name has been mentioned as a possibility.

[DOWNLOAD AUDIO: "Trippi on McCain" 150KB] "I think the country is sick of this partisan stuff anyway and if you actually had two people of that stature running together, saying, 'Hey, we're actually gonna work together,' it might cut through all that stuff."
Trippi also offered his analysis of current events, including the war, for which

[DOWNLOAD AUDIO: "No Sacrifices" 636KB] "no one here was asked to sacrifice a damn thing. What did you get in the war dad? You got a nice big, fat tax cut. Nobody in this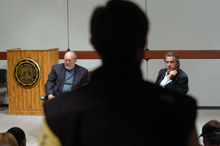 room or across this country was asked to sacrifice anything. And when you can have war with any population not having to pay any kind of price -- whether it's higher taxes or [a draft] -- there's absolutely no price to be paid for it. It's too easy for the electorate to support it. I'm not talking about opposing it or being in favor of it... any war. This isn't right," he said.
On the issue of gay marriage, which Trippi says Republicans will continue to push through the fall, he states,

[DOWNLOAD AUDIO: "Trippi on the Constitution" 553KB] "The debate that has to happen in this country, and we really need to have it, is -- and I'm just going to say it the way somebody needs to say it -- In George Bush's America, if you're gay, it's immoral and you go to hell. OK? Now the great thing about this country is that George Bush gets to say that and he gets to believe it. But in America, what's immoral is when any American citizen does not have the same rights as every other American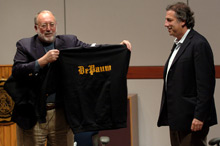 citizen, whether we like them or not. It's immoral. And we should be having that debate," Trippi asserts.

[DOWNLOAD AUDIO: "More on the Constitution" 392KB] "Instead, it's gay marriage and a party running away from it. It's not about gay marriage. It's about what our Constitution [says and] what we should be standing for."
Upcoming guests in the Crain Lecture Series include Douglas Brinkley, author of the John Kerry biography, Tour of Duty, (Monday, April 5); and David Keene, chairman of the American Conservative Union (Monday, April 26). Read more by clicking here.
Back