Prof. David Gellman Receives Peterson Fellowship
March 17, 2004
March 17, 2004, Greencastle, Ind. - David Gellman, assistant professor of history at DePauw University, has been selected as a Peterson Fellow of the American Antiquarian Society. Kate B. and Hall J. Peterson Fellowships are for research on any topic supported by the Society's collections, and will support one month's residence in the Society's library in the coming academic year for Dr. Gellman to work on his project, "Liberty's Legacy: The Jay Family and the Problems of American Freedom."
The American Antiquarian Society was founded in 1812 by Isaiah Thomas, a noted printer, publisher, book collector, and historian of his trade. His collection of 8,000 books and his expectation that Society members would contribute printed materials from across the nation for preservation was the foundation of the major research library in American history and culture that continues to draw professional scholars, teachers, and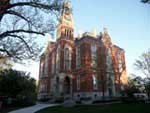 amateurs of historical scholarship and research to Worcester, Massachusetts. The Society's collections cover all aspects of American life through 1876.
Learn more by clicking here.
Back