March 31 Ubben Lecture by Shimon Peres to Begin at 6:30 p.m.
March 19, 2004
Read More About Shimon Peres' Visit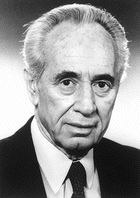 March 19, 2004, Greencastle, Ind. - "Your Role in the Peace Process," The Timothy and Sharon Ubben Lecture to be presented by Shimon Peres on March 31 in DePauw University's Kresge Auditorium, will begin at 6:30 p.m. -- one hour earlier than previously scheduled. As with all Ubben Lectures (see complete list by clicking here), the event is free and open to the public.
Peres twice served as Prime Minister of Israel and is currently chairman of Israel's opposition Labor Party. "As you can imagine, Prime Minister Peres is very busy and will only be in the United States a short time,"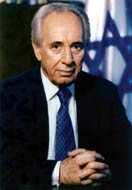 says Ken Owen '82, director of media relations at DePauw and coordinator of the Ubben Lecture Series. "I received word late yesterday that Mr. Peres' schedule needed to be changed. The new starting time will enable him to still visit DePauw and meet his commitments."
Winner of the 1994 Nobel Peace Prize, Shimon Peres has dedicated his entire adult life to the formation of his country and the realization of peace between Israel and her neighbors. In his Ubben Lecture at DePauw, Peres will discuss the current state of the world, the prospects for peace in the Middle East, and how each of us can play a role in making the world a better place. Mr. Peres will become only the second speaker to return as an Ubben Lecturer (his first speech was November 11, 1996; William Bennett is the other person who has delivered two Ubben Lectures).
Read more about Shimon Peres by clicking here.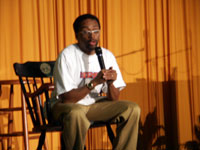 The Ubben Lecture Series has brought distinguished individuals to the DePauw University campus since 1986, including 2004 presidential candidate and retired General Wesley Clark, former British Prime Ministers Margaret Thatcher and John Major, General Colin Powell, Ross Perot, Spike Lee (seen in photo), Mike Krzyzewski, Harry Belafonte and ice cream entrepreneurs Ben & Jerry. To view a complete list of Ubben Lecturers, which includes links to video clips and news stories, click here.
Back