Performance of Annie Corley '82 in 21 Grams Noted in Indianapolis Star
March 19, 2004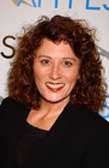 March 19, 2004, Greencastle, Ind. - In a mention of the DVD release of the movie 21 Grams in today's Indianapolis Star, Steve Slosarek writes, "be on the lookout for 'Trish,' played by DePauw University graduate Annie Corley."
You can access the item by clicking here.
Annie Corley, a 1982 graduate of DePauw, appears in three films that were nominated for Academy Awards this year: 21 Grams, Seabiscuit and Monster. She also portrayed the daughter of Meryl Streep's character in The Bridges of Madison County. Read more by clicking here.
Back