Shimon Peres' Ubben Lecture Canceled
March 21, 2004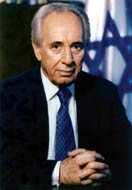 March 21, 2004, Greencastle, Ind. - Shimon Peres' obligations as head of Israel's Labor Party will force him to return to Israel earlier than planned and cancel his scheduled March 31 visit to DePauw, the University learned this evening.
"This is disappointing, to be sure," said Ken Owen '82, director of media relations and coordinator of the Timothy and Sharon Ubben Lecture Series, which was bringing Mr. Peres, who twice served as Israel's prime minister, to campus. "However, any time you schedule someone who is still very active in the political process, you're aware that things can come up and their first obligation is to their job. I am now working actively to find a speaker to replace Prime Minister Peres, and hope to have an announcement soon."
Late last week, aides to Peres requested that the DePauw Ubben Lecture, which was set to begin at 7:30 p.m. on March 31, be moved up one hour because of the speaker's need to return to Israel sooner than anticipated. Tonight, DePauw was informed that Peres' schedule now demands that he return to his homeland even sooner after a brief U.S. visit, making his visit to Greencastle an impossibility.
"I know that many people had great anticipation for this speech, but this is
something that's out of our hands," Owen added. Winner of the 1994 Nobel Peace Prize, Shimon Peres would have become only the second speaker to return as an Ubben Lecturer (his first speech was November 11, 1996; William Bennett is the other person who has delivered multiple Ubben Lectures).
The Ubben Lecture Series has brought distinguished individuals to the DePauw University campus since 1986, including 2004 presidential candidate and retired General Wesley Clark, former British Prime Ministers Margaret Thatcher and John Major, General Colin Powell, Ross Perot, Spike Lee, Mike Krzyzewski, Harry Belafonte and ice cream entrepreneurs Ben & Jerry. To view a complete list of Ubben Lecturers, which includes links to video clips and news stories, click here.
Watch this space for the announcement of the next Ubben Lecturer.
Back