'Mind Storm,' Exhibit of Contemporary American Folk Art, at Peeler Center March 31- June 14
March 23, 2004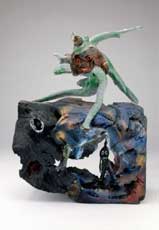 March 23, 2004, Greencastle, Ind. - "Mind Storm: Contemporary American Folk Art from the Arient Family Collection," an exhibition featuring the work of self-taught American artists, will be on view at DePauw University's Richard E. Peeler Art Center from March 31 through June 14, 2004. This exhibition features the artistic production of self-taught American artists, sometimes referred to as "visionaries" or "outsiders," who produce work that is inspired by profoundly personal inner visions and generally unaffected by the mainstream art world and its movements, trends and theories. "Mind Storm" also has a subtext: to provide insight into the processes and nuances of collecting, as well as the personal relationships that often form between artist and collector. (at top: Bessie Harvey, Down in the Valley, 1988, painted wood)
Composed of works from the impressive, respected collection of Chicago-area collectors Jim and Beth Arient, who collected folk art for nearly two decades, the exhibition showcases and celebrates the artistic vision and production of 33 artists including Ronald and Jessie Cooper, William Dawson, Sam Doyle, Lee Godie, Bessie Harvey, Jesse Howard, James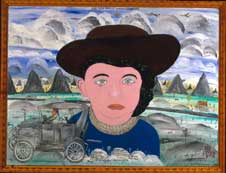 Harold Jennings, S.L. Jones, Charles and Noah Kinney, Carl McKenzie, Mose Tolliver, Derek Webster, and the renowned and celebrated Reverend Howard Finster. (at right: Howard Finster, Henry Ford at 2 1/2 Years Old, 1980, enamel on masonite)
Special events scheduled in conjunction with this exhibition include an opening reception on Thursday, April 1, from 5 to 7 p.m., featuring a gallery talk by the collectors, and an "Art for Lunch" gallery talk by DePauw student Matthew Arient on Thursday, April 22, at 12:30 p.m. Both events are free and open to the public.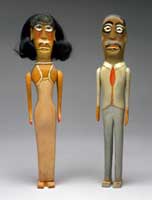 This exhibition and its accompanying programs have been made possible by the generous support of the Indiana Arts Commission, the National Endowment for the Arts, Arts Iliana, and the Vectren Foundation. (at left: William Dawson Marilyn McCoo and Billy Davis, 1986, painted wood. Photos by Michael Tropea)
The galleries at the Richard E. Peeler Art Center are open Monday through Friday from 9 a.m. to 4 p.m.; Saturday 10 a.m.- 4 p.m.; and Sunday 1-5 p.m. The exhibit is free and open to the public. For more information, call (765) 658-4336, or visit the Peeler Center online by clicking here.
Back