Newspaper Examination of Broadcast Indecency Quotes Prof. Jeff McCall '76
March 28, 2004
March 28, 2004, Greencastle, Ind. - "Jeffrey McCall, professor of telecommunications at DePauw University, has often criticized the FCC for what he considers its lax enforcement of laws against obscene, indecent or profane speech," writes Scott Smith in today's Kokomo Tribune. The Indiana newspaper examines the Federal Communications Commission's recent crackdown on broadcast indecency, and how media outlets are responding. A controversial radio disc jockey in San Diego, Bubba the Love Sponge, was recently fired.
Dr. McCall, a 1976 graduate of DePauw, tells Tribune,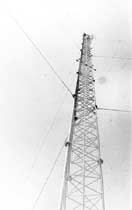 "I think a bigger statement would be if Viacom's CEO took Howard Stern off the air. If they ever pulled him in, that would be something. To have Clear Channel [fire Bubba] I think was a token gesture." Smith writes, "McCall said he expects Congress to eventually raise the maximum fines the FCC can impose. Whether the broadcast industry cleans up its act for good or lapses back into old habits may depend on the FCC's willingness and ability to impose heavy fines, he said."
You can read the complete article by clicking here (a free registration is required).
Source: Kokomo (Ind.) Tribune
Back