FCC Must "Keep Eyebrows Raised," Prof. Jeff McCall '76 Writes in Op-Ed
March 31, 2004
March 31, 2004, Greencastle, Ind. - "One must wonder what the content of over-the-air broadcasting would be today if the Federal Communications Commission had paid as much attention to indecency enforcement over the last 20 years as it has for the past two months," writes Jeffrey McCall, professor of communication arts and sciences at DePauw University, in an op-ed published in today's Indianapolis Star. "Taking advantage of the opportunity provided by a Super Bowl halftime 'wardrobe malfunction,' the FCC and Congress have quickened the pace of initiatives begun even before the incident. The FCC has assessed more fines already this year than in the past 10. The House has passed legislation to increase indecency fines, and Senate action is coming. FCC commissioners and legislators are rattling sabers about regulating violent content and even material delivered via cable or satellite."
Dr. McCall, a 1976 graduate of DePauw, notes that while broadcasters have been responding to the new crackdown by vowing to clean up their stations, "There are many signals that the broadcast industry is not ready for real reform, and instead is only trying to shore up public image." He also wonders if lawmakers will continue to hold broadcasters' feet to the fire,

and takes to task "unlikely talk-radio allies" Alan Colmes and Rush Limbaugh, who have argued that the FCC's moves could amount to censorship. McCall opines, "First Amendment framers would cringe to think their precious free speech principle, designed to fuel the conversation of democracy, would be used to defend the 'rights' of smut broadcasters to shock the public with messages that have no political or social value."
In summary, the professor notes, "In 1961, FCC Chairman Newton Minow bashed the television industry in his 'Vast Wasteland' speech, criticizing broadcasters for programming too much 'blood and thunder, mayhem, violence, sadism, murder.' This raised-eyebrow technique got the industry's attention for a short while, reducing violent content and sparking new program initiatives. But the concern soon faded, and violence returned as a program staple.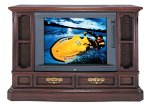 Surely, reforms under way in the oversight of broadcast decency will be effective only as long as the FCC keeps its eyebrows raised."
You can read the column in its entirety at College News.org.
Jeff McCall has been quoted recently on the issue of broadcast indecency in the Cleveland Plain Dealer, Kokomo Tribune and Wired News.
Source: Indianapolis Star
Back