John Kerry Biographer Douglas Brinkley Speaks Monday
March 31, 2004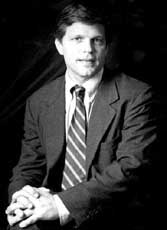 March 31, 2004, Greencastle, Ind. - Tour of Duty: John Kerry and the Vietnam War "offers perhaps the most insightful examination available of the character of this or any other Democratic candidate," wrote Publishers Weekly of Douglas Brinkley's best-selling book. On Monday, April 5, Brinkley will come to the campus of DePauw University for a Gertrude and G.D. Crain Jr. Lecture. The event, which begins at 4:15 p.m. in Watson Forum of the Eugene S. Pulliam Center for Contemporary Media, will be attended by several members of the Crain family. Endowed by Rance Crain, president of Crain Communications and a member of DePauw's Class of 1960, the new series, which honors Mr. Crain's parents, will enrich the DePauw environment in the area of public affairs and public issues.
Douglas Brinkley currently serves as director of the Eisenhower Center for American Studies and is a Professor of History at the University of New Orleans. A regular guest on network television news programs and a commentator for National Public Radio's All Things Considered, Dr. Brinkley serves on the board of the National Faculty and is a member of the Council on Foreign Relations. His other books include Wheels for the World: Henry Ford, His Company, and a Century of Progress, 1903-2003, Witness to America: An Illustrated Documentary History of the United States from

the Revolution to Today (co-authored with Stephen E. Ambrose), and The Unfinished Presidency: Jimmy Carter's Journey Beyond the White House, which was named "Notable Book of the Year" by the New York Times in 1998.
"What got me interested in writing Tour of Duty was how as a society we have neglected Vietnam veterans," Brinkley noted in a January 2004 chat at the Web site of the Washington Post. "At first I wanted to write a book about all the Vietnam senators -- John McCain, Chuck Hagel, Bob Kerrey, Max Clealand and John Kerry -- but I decided to focus just on one person. The reason for that was that many of these senators had written their own memoirs and had biographies published about their lives. When I interviewed John Kerry for the first time I found he had voluminous diaries from his days aboard the USS Gridley and from Swift Boats in the Mekong Delta. They were amazing. Kerry had studied literature at Yale and was trying to be a mini-Hemingway or Ernie Pyle. He had an astute sensibility to both the political and military access of the riverine war and I was amazed to learn how little had been writer about Operation Sea Lords,

the attempt to cut off North Vietnamese infiltration of the south through the river system. His diaries are filled with stories of burning villages, dead children, humanitarian good deeds and old fashioned heroism. On top of that Kerry also came home to be a leader in the antiwar movement."
In a March 4 appearance on the News Hour with Jim Lehrer on PBS, Brinkley noted that John Kerry seems to perform best when his back is against the wall. "When you talk to the guys in Vietnam, like I did, and I've interviewed all the men of his two Swift boats, except for one, most of them tell stories of when -- a moment of crisis he responds so quickly and in the right way and if you look at even some of his campaign this past year was quite lackluster in most of 2003 and suddenly in January he was right on message and everything started to be working for him. The media was using the word a closer in baseball terms a clutch hitter. Why he is this way is sometimes hard to say but I think it's because he's a very rounded person... He is somebody who writes poetry on the side. He plays guitar. He loves to travel. He is somebody who has a varied life, not just politics. When it gets boiled down to the pressure he becomes 110 percent politics at that moment."
All Crain Lectures are free and open to the public. Moderated by Ken Bode, Eugene S. Pulliam Distinguished Professor of Journalism at DePauw, they include what Professor Bode calls "maximum opportunity for audience participation."
Learn more about Tour of Duty here. You can read a transcript of Douglas Brinkley's PBS appearance by clicking here. Access the Post chat here.
Back