David Walker '75 Joins Board of Technology Research Corporation
April 1, 2004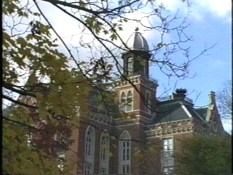 April 1, 2004, Greencastle, Ind. - David F. Walker, who teaches accounting at the University of South Florida, St. Petersburg, serves as director of the Program for Social Responsibility and Corporate Reporting in the College of Business at USF, and is a 1975 graduate of DePauw University, has been appointed to the board of directors of Technology Research Corporation (TRC) (NASDAQ:TRCI). Walker also approved as the new chairman of the audit committee.
"David Walker brings to TRC extensive knowledge and expertise in financial matters which will be of great benefit to the company," says Robert S. Wiggins, chairman and CEO of Technology Research Corporation. "We are certainly fortunate to have him join our board of directors."
David Walker joined the University of South Florida College of Business in St. Petersburg in 2002 following a 27-year career in public accounting with Arthur Andersen. Business Wire notes that Walker "earned an MBA degree from the University of Chicago Graduate School of Business with concentration in accounting, finance and marketing in 1980, and a B.A .degree from DePauw University with majors in economics and mathematics, and a minor in business administration in 1975. Mr. Walker is also a CPA in Florida and Illinois, and is a Certified Fraud Examiner."
Walker also serves as a director and chairman of the audit committees of two other NASDAQ companies -- First Advantage Corporation and Paradyne Networks, Inc. -- and is active advising on corporate governance matters. He is a member of the AICPA, FICPA and the ACFE, and has also been involved in leadership roles and board positions with several civic and charitable organizations throughout his career.
Technology Research Corporation designs, manufactures and markets electrical safety products that save lives, protect people from serious injury from electrical shock and prevent electrical fires in the home and workplace. These products have worldwide application. The Company also supplies power monitoring and control equipment to the United States Military and its prime contractors. Read more by clicking here.
Back