Play by Prof. Chris White to be Workshopped at Manhattan Theatre Source
April 2, 2004
April 2, 2004, Greencastle, Ind. - Thaw, the newest play by Chris White, assistant professor of English at DePauw University, will be workshopped at New York's Manhattan Theatre Source April 30th and May 1 at 8 p.m. in its recently expanded full-length form. Andrew Frank is directing, fresh from his highly acclaimed production of Chekhov's The Three Sisters, which the New York Times called, "Jewel that it is ... an absorbing production."
"We had a public reading of this play at DePauw in November of 2003, which was wonderful, and now I'm thrilled to be workshopping it at Manhattan Theatre Source," Professor White says. "The theatre's artistic director, Andrew Frank, who's directing, has been committed to the piece in one way or another since it's first reading in one-act form.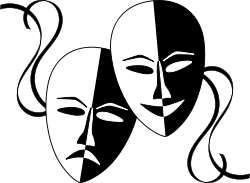 This is the next step in development."
Manhattan Theatre Source is located at 177 MacDougal Street, off 8th Street in the Village, and can be reached at (212) 260-4698 or by clicking here.
Back