First Year Student's Gift to the Community Warrants Newspaper's Attention
April 2, 2004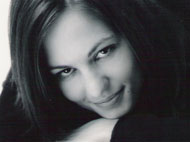 April 2, 2004, Greencastle, Ind. - "DePauw University freshman Jen Burress teaches Putnam County law enforcement and community leaders Spanish at 5:30 p.m. each Tuesday evening at the Greencastle Police Station," notes a story in the Banner-Graphic of Greencastle. "The class is now in its fifth week and will continue until the end of her school year in May. And the motivating force behind the Spanish class, Greencastle Police Assistant Chief Brian Hopkins, hopes Burress will return after summer vacation and resume the class for the remainder of her three-year stay at DePauw."
Abby Tonsing writes, "Hopkins' motivation to offer a Spanish class for law enforcement officers was twofold: he wanted to bridge the gap between English-speaking law enforcement and the Spanish-speaking community, not to mention the bridge between town-gown relations. Hopkins, who attended DePauw himself in 1998, contacted [DePauw Spanish] Prof. Robert Hershberger about finding a teacher for a community Spanish class. Hopkins had previously arranged a report writing class for GPD officers
with creative writing professor Greg Schwipps. Impressed with the writing class, the assistant chief wanted to try arranging a class again this time with Spanish."
The article continues, "'We need to be able to communicate with the Spanish community,' Hopkins stressed, which he said is growing. Spanish-speaking skills are necessary when it comes to traffic stops, crimes of any kind and medical emergencies, he said.' Hopkins added, "We wouldn't be able to help a victim at La Charreada [a Mexican restaurant in Greencastle which had a fire] if we didn't know what they were saying."
Tonsing notes, "With more than four years of the language already under her belt, Burress couldn't agree more. When asked why she chose to study Spanish in high school, she responded, 'There's so many more people who speak Spanish than anything else.' The Des Moines, Iowa, native taught English to the employees of La Charreada as part of a service learning project last semester. As that project is currently in limbo, she said she was glad to sign on to Hopkins' language project. 'It helps me with my Spanish, I like it.' she
said of teaching. 'She's really good at Spanish,' Hopkins said of his new teacher. 'She's very fluent at it.' He also commended DePauw President Dr. Robert Bottoms for being a big supporter of the project."
The complete article can be accessed by clicking here.
Back