Five Distinguished Individuals to Receive Honorary Degrees at DePauw's 165th Commencement
April 4, 2004
Pre-Order Your Commencement DVD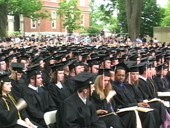 April 4, 2004, Greencastle, Ind. - DePauw University will honor five distinguished individuals with honorary degrees at its 165th annual Commencement, Sunday, May 23, 2004, at 1 p.m. on East College lawn (weather permitting).
The recipients will be:
Saad Eddin Ibrahim - Doctor of Humanities. A pro-democracy activist who holds dual Egyptian and American citizenship, Dr. Ibraham taught sociology at DePauw from 1967 to 1974. In 1988, he founded the Ibn Khaldun Center for Development Studies at the
American University of Cairo, creating one of the few independent research institutions in the Arab world.
On June 30, 2000, Professor Ibrahim was arrested in Cairo, shortly after he published a sarcastic critique of the possibility that Egypt's president, Hosni Mubarak, would seek to install his son Gamal as his successor. Ibrahim was subsequently convicted and imprisoned, drawing worldwide attention and condemnation. In 2003, Egypt's highest appeals court reversed the conviction. He has since reopened the Ibn Khaldun Center. "I'm not going to change my convictions because of a trial," Ibrahim says. "If there is a margin of freedom in which you can fight, we are determined to take that margin and expand it."
Mary Patterson McPherson - Doctor of Letters. President Emeritus of Bryn Mawr College and vice president of The Andrew W. Mellon Foundation, Mary Patterson McPherson has said, "One purpose of a liberal arts education is to make your head a more interesting place to live inside of for the rest of your life." The recipient of an A.B. from Smith College, an M.A. from the University of Delaware, and a Ph.D. from Bryn Mawr College,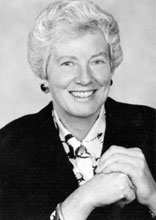 McPherson held numerous academic and administrative posts at Bryn Mawr from 1961 through 1997. She was made acting president in 1976 and served as president from 1978-97.
Since 1997, Dr. McPherson has served as vice president of the Andrew W. Mellon Foundation, one of the nation's most influential philanthropic supporters of higher education. McPherson serves on the board of directors of Josiah Macy Jr. Foundation, JSTOR, The Philadelphia Contributionship, and Goldman Sachs Asset Management. She is on the board of trustees of Smith College, and The American School of Classical Studies at Athens and is a member of The American Philosophical Society and the American Academy of Arts and Sciences. She is former chairman of the Middle States Accreditation Teams (1973-83), director of the Provident National Corporation, the University Museum and the American Council on Education. She has previously served on the board of directors of the Phillips Exeter Academy, Wilson College, International House of Philadelphia, Greater Philadelphia Movement, the Judicial Inquiry and Review Board of Pennsylvania, the University City Science Center, the Carnegie Foundation for the Advancement of Teaching, the National Humanities Center, Provident National Bank of Philadelphia, the Brookings Institution, Carnegie Corporation of New York, the Dayton Hudson Corporation, Bell Telephone Company of Pennsylvania, Amherst College, Humanity in Action, Bank Street College and The Spencer Foundation.
Ferid Murad '58 - Doctor of Science. The co-recipient of the 1998 Nobel Prize in Physiology or Medicine, Dr. Murad is director of the Institute of Molecular Medicine at the University of Texas Medical School at Houston, and serves as chairman of the university's department of integrative biology and pharmacology. Dr. Murad is also a member of the National Academy of Sciences and a 1996 recipient of the Albert and Mary Lasker Basic
Medical Research Award, considered the most significant United States biomedical science prize. The Lasker Foundation cited the 1958 DePauw graduate for having fundamentally advanced the understanding of biochemical mechanisms in numerous cell types and tissues, including the roles of cyclic GMP and nitric oxide.
Dr. Murad's work has concentrated on the field of cell signaling or signal transaction systems, and he has been active in both academic medicine and industry throughout his career. Most scientists, he says, "want to leave a significant imprint in academics and science. We are all trying to accomplish something significant and then develop a pedigree of trainees and scientists who can carry on and advance the knowledge."
Stephen W. Sanger '68 - Doctor of Letters. The chairman and CEO of General Mills, Inc., Steve Sanger joined the company in 1974 and progressed through a variety of positions in marketing management, reaching the company's top spot in 1995. He oversaw the $10.4 billion acquisition of Pillsbury in 2001. Today, General Mills -- the maker of popular consumer food products including Cheerios, Yoplait Yogurt and Betty Crocker -- has annual net sales of $11.5 billion. Business Week notes that when the innovative Sanger "sought to improve productivity a while back, he sent technicians to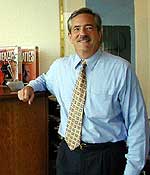 watch the pit crews during a NASCAR race. That inspired the techies, who then figured out how to reduce the time it takes to switch a plant line from five hours to 20 minutes."
Sanger, a 1968 graduate of DePauw, is also a director of the Target Corporation, the Donaldson Company, and a member of the board of Catalyst, the National Campaign to Prevent Teen Pregnancy and the Minnesota Business Partnership. He is chairman of the board of the Grocery Manufacturers of America and the Guthrie Theater. In addition, Sanger is a member of the Business Council, the Business Roundtable, the Conference Board, the Committee for Economic Development and a member of the board of advisers of the Retail Food Industry Center.
Orlando L. Taylor - Doctor of Pedagogy. The vice provost for research, dean of the graduate school and professor of communications at Howard University, Orlando Taylor is a national leader in graduate education and within his discipline. Dean Taylor's pioneering work in the fields of communication disorders, sociolinguistics, educational linguistics and intercultural communication has led to the development of new theories and applications. In most of his scholarly work, he has focused on the rich cultural and linguistic diversity of the American people. Prior to joining the Howard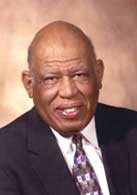 faculty in 1973, Dean Taylor was a member of the faculty of Indiana University. He has also served as a visiting professor at Stanford University.
As graduate dean at Howard University since 1993, Taylor has played a significant role in assuring Howard's continued national leadership in graduate education. He currently leads Howard's efforts, along with those of 13 other leading research universities, to make doctoral education more responsive to societal needs and students' interests. Among other things, Howard is the nation's largest on-campus producer of African American Ph.D. recipients. Dean Taylor has also raised more than $20 million in research, training and program development grants from federal and private sources during his career at Howard.
Dr. Taylor is a current or former member of numerous national boards, including the Council of Graduate Schools, the Northeastern Association of Graduate Schools and the National Communication Association. He is a former member of the Advisory Committee of the Directorate for Education and Human Resources of the National Science Foundation and Advisory Council at the National Institutes of Health. He is currently President of the Consortium of Social Science Associations and a member of the Board of the Jacob Javits Fellowship Program in the Humanities.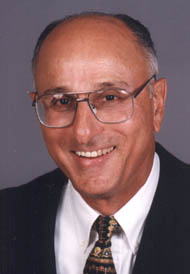 This year's commencement address will be delivered by Nick Mourouzis, DePauw's all-time winningest football coach in terms of total victories, who retired at the end of the 2003 season (read more here). Mourouzis led DePauw's football program for 23 years, compiling a record of 138-87-4. "Coach Nick" retired as 11th in wins among all active NCAA Division III coaches, second among active Indiana collegiate coaches and fourth all-time in the state's history.
A DVD of commencement will again be produced this year as a permanent keepsake for graduates and their families. For information on pre-ordering the disc, click here.
Back